This Decathlon treadmill review is mostly based on my experience with them in their showroom.
And I would compare these Domyos treadmills to the other popular treadmill brands.
I would also show you different alternatives to these decathlon treadmills.
Decathlon treadmill after sales/repair service as per them is available in most of India.

the list of decathlon Treadmill review and alternate models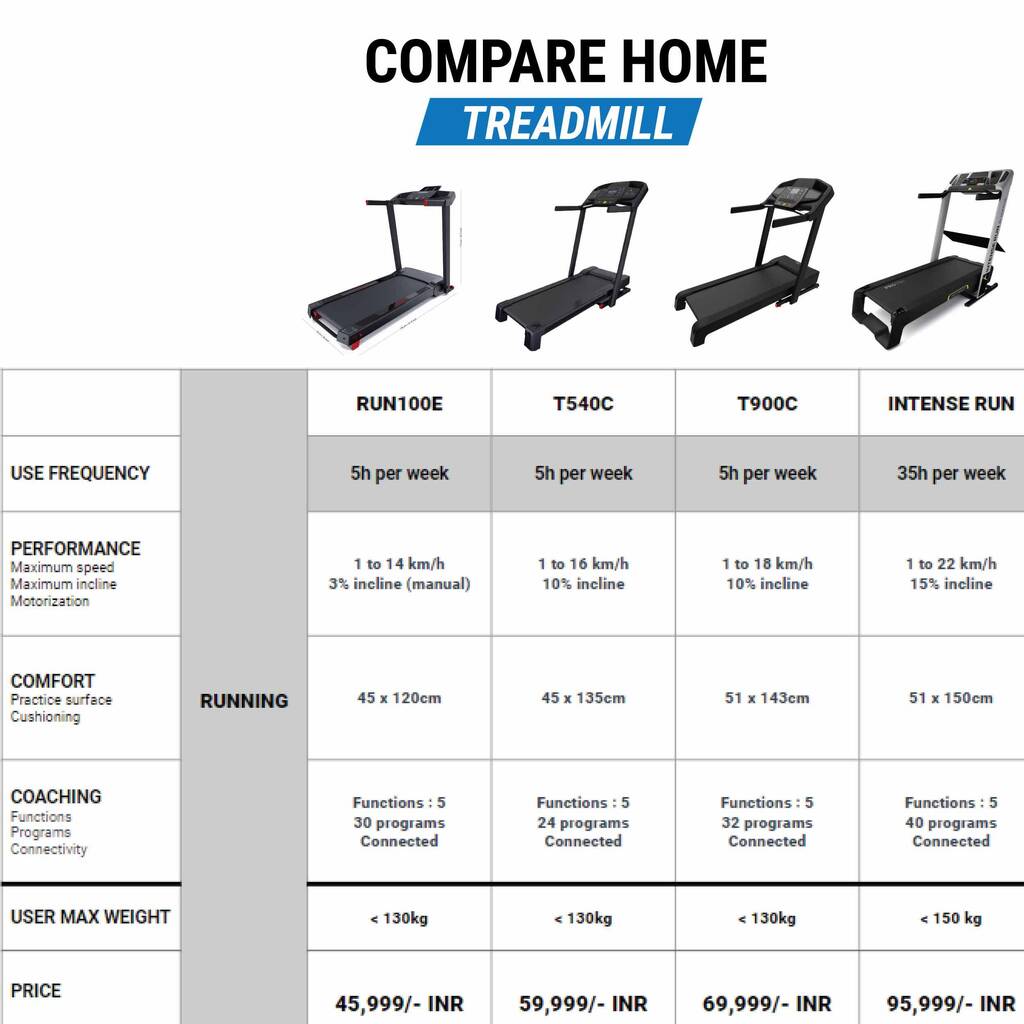 Top Pros of Decathlon Treadmills:
All models have great user weight of 130 kg+

All have speakers, Bluetooth connectivity.

Console is nicely designed.

Low noise.

Steel Frame.

You can try their treadmills at their store.
Top Cons of Decathlon Treadmills:
---
Domyos Intense Run treadmill review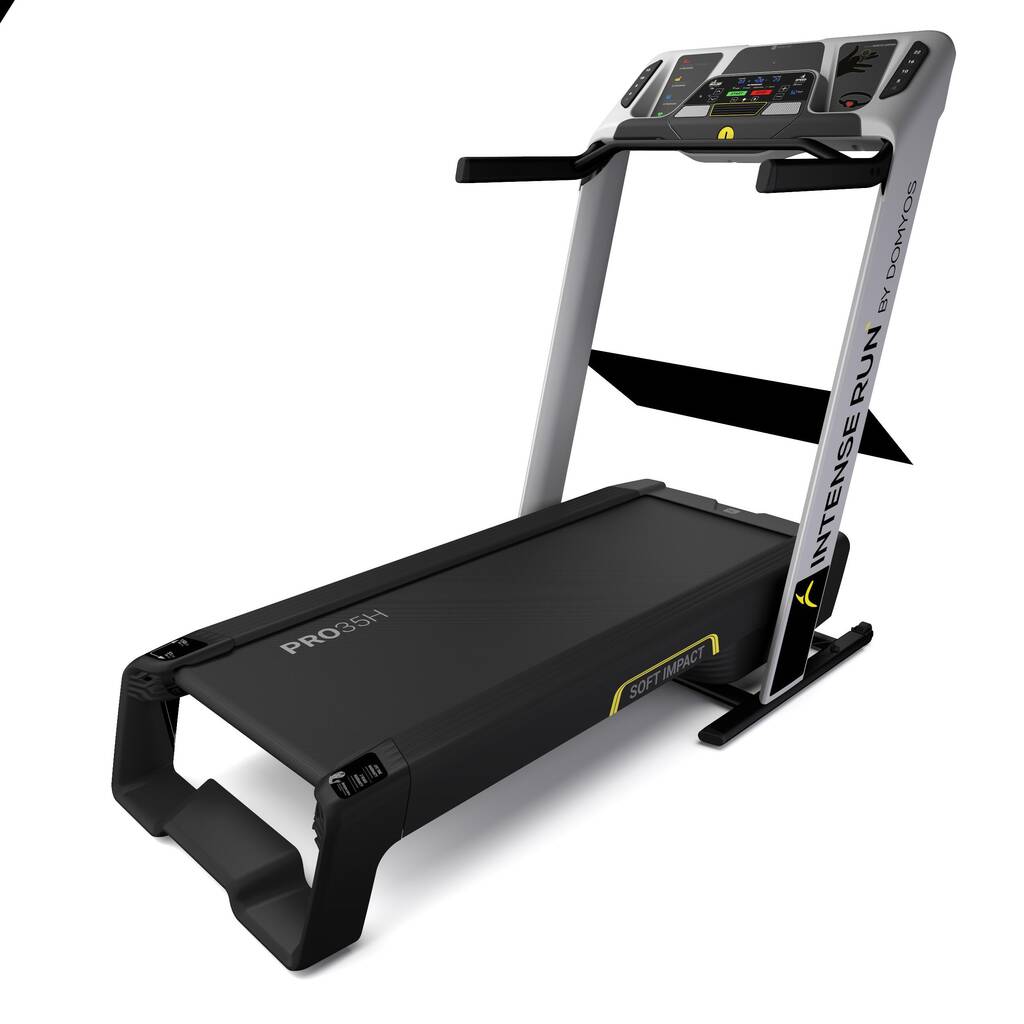 Check Alternatives models and Reviews on Amazon
Final Verdict: If you are not after the brand value then at this cost you will get some very premium and well designed treadmills from companies like viva, Powermax etc. Check the alternatives on Amazon.
Domyos intense run treadmill is a semicommercial treadmill that can be used upto 5 hours a day, with a top speed of 22 km per hour.
It also has an incline of 15%.
Running deck size is 50*150cm.
Surprisingly, this has 40 preset programs, that is a lot for a treadmill.
And the max user weight is 150 kgs.
Motor capacity is around 3 HP.
The body is durable as it is made of steel and the board is from wood.
It is made for indoor usages for cardio purpose.
The warranty on this decathlon treadmill is as follows – 2 year on motor and lifetime warranty on frame.
This domyos treadmill can be used by all members of the family, and it can be used for a long time of 35 hours per week.
The running belt is also quite thick, so it does not hurt knees.
It has a massive list of 40 preset programs that were created by a coach.
It is just a button away on the console.
Best under desk treadmill India
The preset programs are based on goals like well-being, calorie los, endurance and HIIT/interval training.
You can also create a specific profile for each program.
Also, you can check all that data in Domyos E connected app.
This semicommercial treadmill have a console with a 4-inch LED display to show distance, calories, speed, incline and heart rate.
It also has a bluetooth which can be paired to your bluetooth device, and you can then use the E connected app.
At the console there are all the controls to adjust speed and incline and also emergency kill switch.
You can also listen to music as it has two 5 watt speakers by 3.5 mm jack or bluetooth.
The noise level is pretty good, it is only 54DB one of the lowest that I have ever seen.
That is, if you run on 10km/hour speed. The treadmill can be folded, so you can save space when not in use.
The treadmill itself weighs about 101 kg.
T900b/T900C decathlon Treadmill Review and price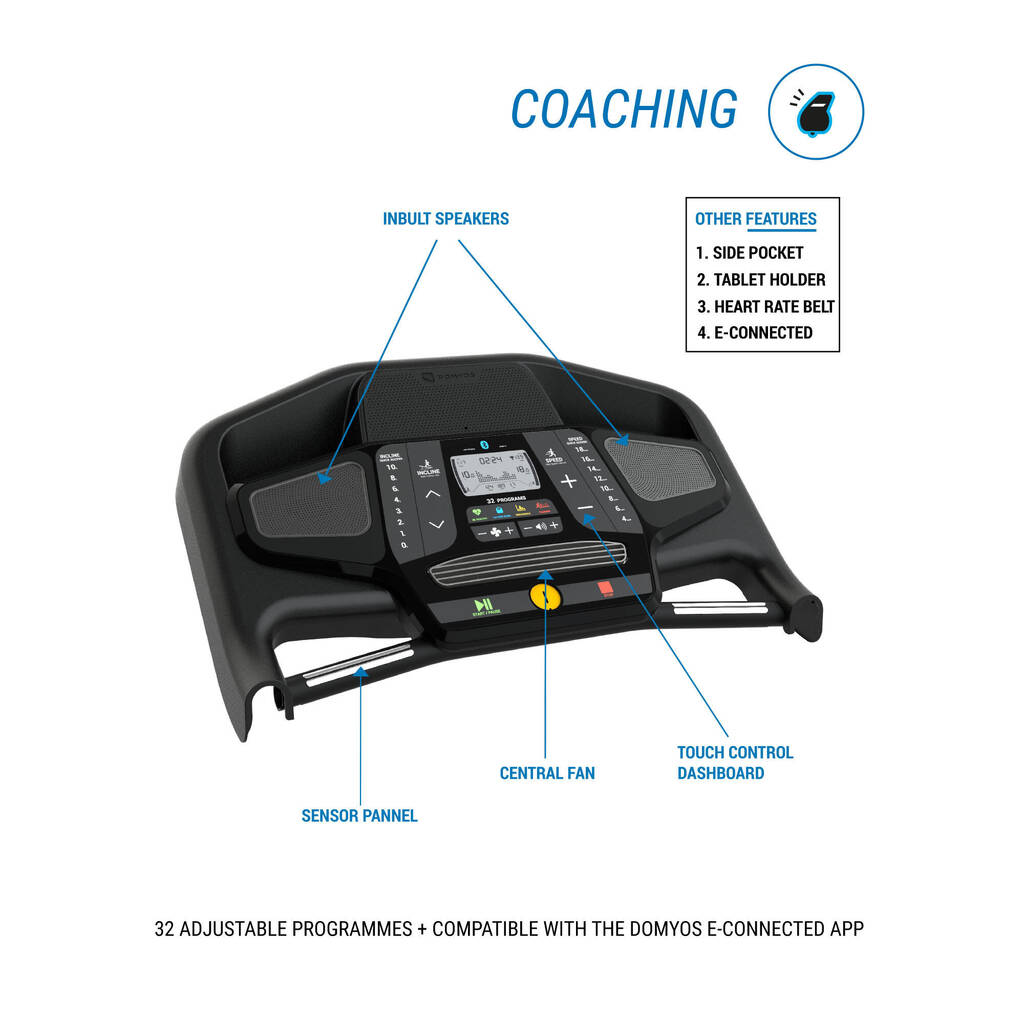 Check Alternative models and Reviews on Amazon
Final Verdict: I believe the build quality is great but the motor power and other features are not. Also there could be more value addition can be done to the running belt and shock absorption.
There is basically no difference between those models, but T900c specifies that it was made in China.
These treadmills support upto 130 kgs max user weight and have a 1.5-3 HP motor.
The running area is 50cm wide with 143 cm long, the average length for running at this price range.
The frame is made of steel, so it will not get damaged at all.
They do provide 5-year warranty on the metallic parts of the frame and 2 years of warranty (parts and labour)
These treadmills have 32 pre set programs, decathlon user do love preset programs.
With the 1-3 HP powered motor, you can run at top speed of 18km/hour.
The length of the running area is around 147 cm in width is around 88 cm, pretty average if you compare the price.
The 1.44 HP motor of T900 consumes about 370 watts of power if you are running at 8km/h if you are 90 kg.
The sound levels are around 52db if the treadmill is working at 10 m/ hour.
The top console has a backlit lcd screen that shows you time, speed, distance etc.
There are shortcuts to adjust speed and incline levels, Upto 10%.
The console also has a safety switch and looks good and usable.
You can connect their app to track your workout data or use the bluetooth to play music using those bluetooth speakers.
The running belt has some cushioning, but I am not sure about any shock absorbers, this could still provide some good effect for the knees though.
This treadmill is also foldable with wheels and has a soft drop system.
"As we run, we become."
T540A/T540C decathlon Treadmill Review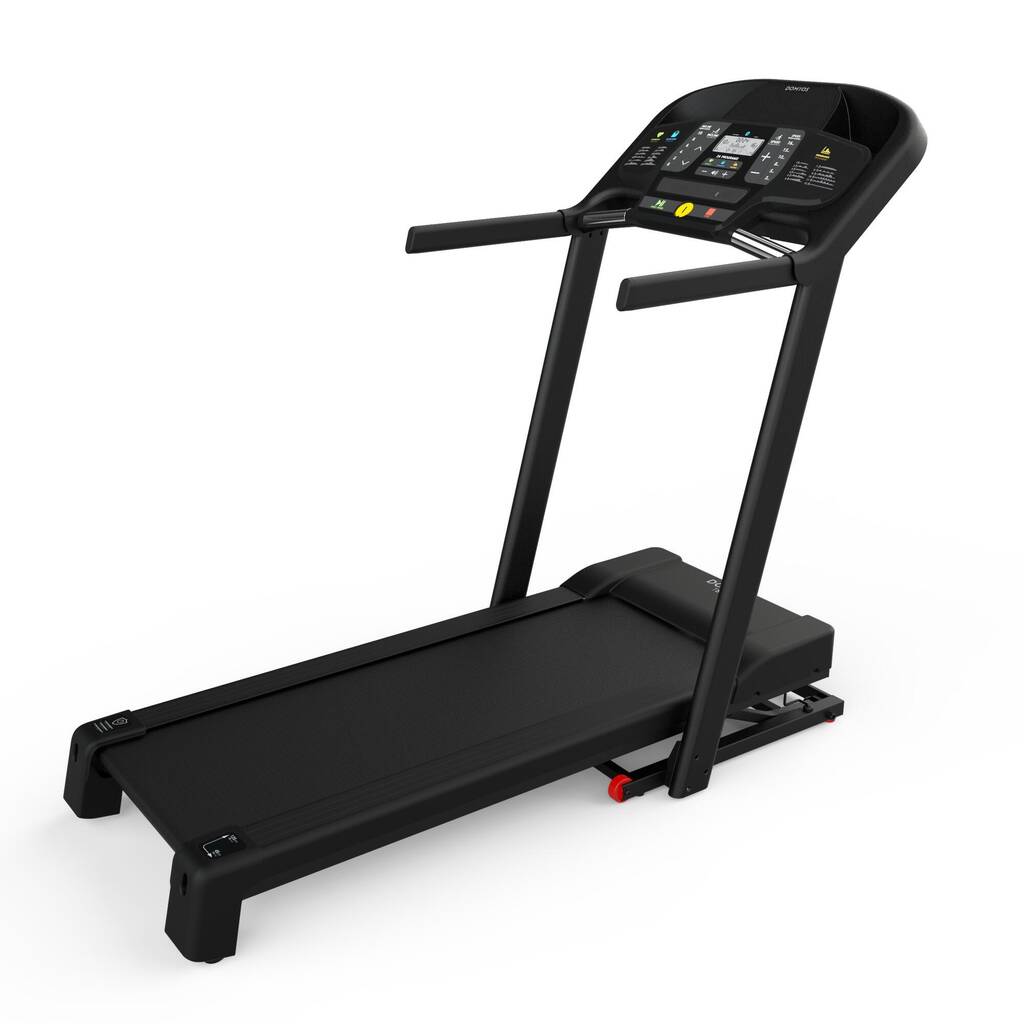 This treadmill can be used for 5 hours a week and top speed is 16 km per hour.
Also, it has the Domyos Econnected app so you can track your workouts from your phone.
There is also 10% incline also.
And all that speed and incline can be controlled from the console.
The console is good looking and feature rich, you can track speed, distance, time, calorie etc.
The motor is at 1.25 HP and consumes around 932 watts.
Which is pretty average for all treadmills.
The treadmill deck has 141 cm length and is foldable.
There are speakers at the front, you can use a 3.5 mm jack to play music. There is also a place for a tablet holder.
This treadmill has 24 pre set programs, 8 are health and well-being category, 8 are as calorie burn, 8 as endurance.
T520 decathlon Treadmill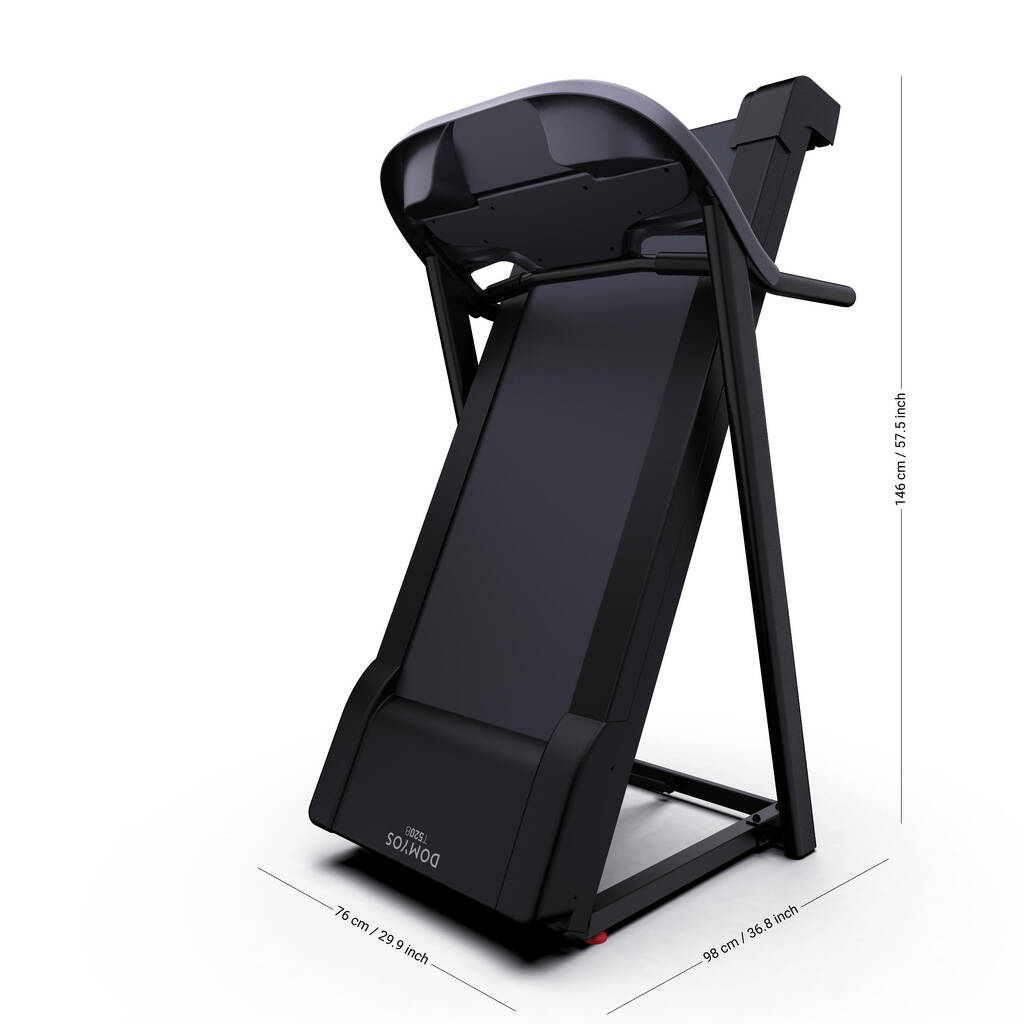 This treadmill is signed off as a low intensity jogging treadmill but the cost is around 40k!
At this cost, you will definitely get a lot of much better treadmills.
That's just my opinion though, you are free to chose what ever suits you best.
The jogging length is 121 m and width is around 43 cm.
This has 10 pre set programs, 5 or health and 5 for calorie based targets.
The frame has high weight capacity though, it can support upto 130 kg.
The frame is made of steel and the board is 100% wood.
They give 2 years warranty on parts and 5 years on the frame.
T520 console is friendly and easy to use, all the speed adjust and incline control buttons are there.
There is a tablet holder also.
The noise level is low, it will be 55 db at 10km/h.
Treadmill Run 100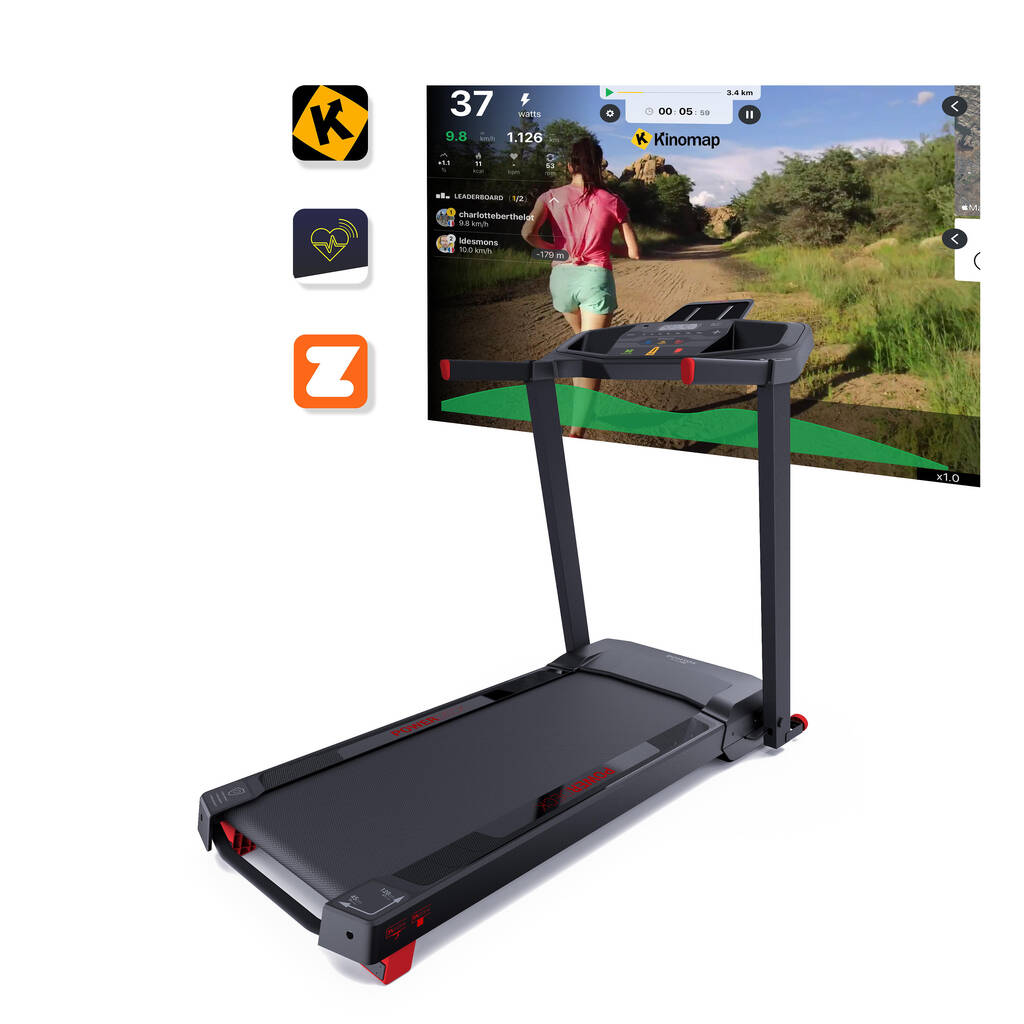 This treadmill has a very minimal design and suited for small homes.
It has around 1.25 HP motor and that can go up to speeds of 14km/ hour.
That speed at this motor capacity of 1.25 HP is impressive.
The noise at 14 km per hour will be around 66db.
This has 12 preset programs that you can use and all can be controlled from the console.
The treadmill itself weighs around 47 kg and total weight it can support is 130kgs.
There are no mentioned limits of weekly hour usages but I would keep it to a minimum.
This treadmill may consume around 932 watts of electricity.
Run 100 by decathlon has no auto incline, it can only incline upto 3% manual.
The running pad is soft and has shock absorbers.
Are decathlon treadmills any good?
Decathlon treadmills are pretty decent for home gym use. You can just visit their showroom and check them.
The pricier models are better than budget models, but at that high price I would prefer to get better treadmills with lots of features from other reputed brands.
Conclusion
I would say at that price you may get good commercial treadmills with great features from Powermax treadmill or Viva fitness Treadmills.
They have superb models and mostly sell Indian-made products.
If you have Domyos or Decathlon store nearby, just go to that and try these treadmills, and you will have a better idea.
There are also some domyos tc3 treadmill and domyos tc5, but these are not available right now. So in this domyos treadmill review India I skipped them.
Follow us on Instagram: https://www.instagram.com/homegymindia/