Here are some of the best shoes for plantar fasciitis and insoles to relieve you from foot pain.
If you are wondering which running shoes are best for plantar fasciitis, then this is the place to be!
But note, I am not a doctor. These recommendations are generic in nature and is not tailored for you.
If you do have foot pain then you should consider talking with a doctor and he/she will recommend an orthopedic solution to you.
4 Best Shoes for Plantar Fasciitis
Which running shoes are best for plantar fasciitis?
Nike Men's Lunarglide 8 Black Running Shoes
Why Should You Buy this?
If you have issues with general running shoes that hurt your feet, then this a great shoe to have.
This is one of the top nike trail running shoes that you can have.
Nike Men's Lunarglide is a running shoe that provides ample cushioning for any foot issues, especially plantar fasciitis.
Pros
Very lightweight.

Flyknit material and flywire cables used for breathability and support.

It has some good heel support.

The outsole has good grip on all surfaces.

Laced up closure ensures a good fit.

Comes from USA.
Cons
Costly shoe that does not get easily available in India.
Gravity Defyer Proven Pain Relief Women
Why Should You Buy this?
These are a great pair of shoes that also come with good-quality orthopaedic insoles.
Apart from plantar fasciitis, this shoe is also helpful with Achilles tendinitis, bone spur etc.
This Gravity Defyer shoe is a great shoe for plantar fasciitis and other types of heel pain. This shoe looks bulky but is very lightweight.
Pros
VersoShock Patented Technology has been shown to provide relief from knee pain.

Front rolling design reduces foot stress. This reduces pressure from all the leg bones and muscles.

Lace-up closure so your shoe does not move around your feet.

The top layer has breathable mesh with a durable frame.

Comes with a CorrectiveFit Orthotic insole with every box.

Lace-up closure
GELRIDE ArchCare Gel Shoe
Why Should You Buy this?
If you just want to slip in your shoe and have foot pain or other issues then you should use this shoe. It will help you get you relief from any kind of foot pain.
Gelride ArchCare gel shoes are a boon for flat feet, plantar fasciitis and several other foot pain.
Pros
Unisex shoe.

100% pure polymer gel sole. This gel rebounds as you step, absorbing shocks.

This gel insole offers great cushioning.

Despite the large-looking sole, the shoe is lightweight.

Has a nylon-made lightweight upper material.

The mesh upper promotes breathability.

The outsole is made with EVA and anti-slip rubber.
Running Shoes In India Under 2000
Cons
No lace-up closure, so the fit depends on the elasticity of the upper material.
ASICS Men's Gel-Nimbus 18 Running Shoes
Why Should You Buy this?
This is one of the most recognizable shoes when it comes to foot issues like plantar fasciitis.
This shoe has good insole cushion and has gel sole that supports your every step.
ASICS Men's Gel-Nimbus 18 Running Shoe is one of the most popular running shoe when it comes to planter fasciitis.
Pros
Comes with fluidride technology which is a gel-based technology to support your feet.

Comes with a breathable mesh upper so your feet do not sweat.

Has EVA sole with rubber for perfect grip.

The lace-up feature will keep your shoe tight.

Cushioned insole.
Cons
Unfortunately most of the time this shoe is not available in India. Unless you are travelling to Japan.
Lumino Cielo Orthotic Insoles Inserts
Why Should You Buy this?
If you have foot pain and you do not have the budget of buying a high-end running shoe then you should get this Lumino Orthotic insole for yourself or for your loved ones.
Lumino makes one of the best shoe inserts for plantar fasciitis, flat feet etc.
Pros
Fits most of the footwear like shoes easily.

Provides a good balancing sense and helps with foot pain.

Provides plantar fasciitis pain relief.

Helps with over pronation of feet.

Has a cushioned pod on the heel to absorb impact.

The arch has EVA vase so it is strong and retains shape.

The rest of the sole is PU-made and is a breathable material.

Comes with targeted metatarsal support.
Are Running shoes are non marking?
Dr. Scholl's Men's Pain Relief Orthotics for Plantar Fasciitis
Why Should You Buy this?
If you have foot pain and yet you need to walk or run almost every day then you should consider this insole which will protect your feet and will let you avoid these pains.
Dr. Scholl's Men's Pain Relief Orthotics for Plantar Fasciitis is a slightly premium option when it comes to cushioned insoles.
Pros
It has good arch support that absorbs the shock.

This insole has good heel support so it can absorb any impact while you walk.

The insole is durable and is breathable.
Are Running Shoes Good for Standing All Day?
Cons
Many do not feel that this made any difference.
What to look for in running shoes for plantar fasciitis
Plantar fasciitis causes running injuries often, thus you should choose plantar fasciitis shoes which support your daily activities.
You do not need expensive pairs but you should choose shoes with excellent shock absorption and supportive arch.
You should try many shoes to avoid the wrong shoes and find your ideal shoes for running.
Running Shoes Arch Support
Plantar Fasciitis is a common foot pain that can be caused by a variety of things, one of which is bad arch support.
If you have plantar fasciitis, it's extremely important to get good arch support to help alleviate the pain.
For those with severe plantar fasciitis, shoes with thick and strong arch support with extra cushioning are best.
The Asics Gel-Kayano had the strongest arch support as per many users and researchers.
You can try wearing supportive shoes and sandals and even use slip-on soles depending on your foot condition.
Stylish yet Comfortable and Lightweight
They come in multiple colors and styles, and are known for their strong durability. Comfort is still important when it comes to New Balance sneakers, so you can be sure that your feet will feel good even after long periods of wear.
Shock Absorption for Road Running
When you are looking for running shoes to prevent plantar fasciitis, it is important to find shoes that offer strong shock absorption.
The Asics Gel Kayano, Asics Gel Nimbus is one option that offers effective shock absorption. Thick cushioning for shock absorption along with a memory foam or gel insole works the best.
If you have this condition, then you should never run with shoes that have insufficient cushioning.
Cushion your feet as you run and can help reduce the strain on your plantar fascia.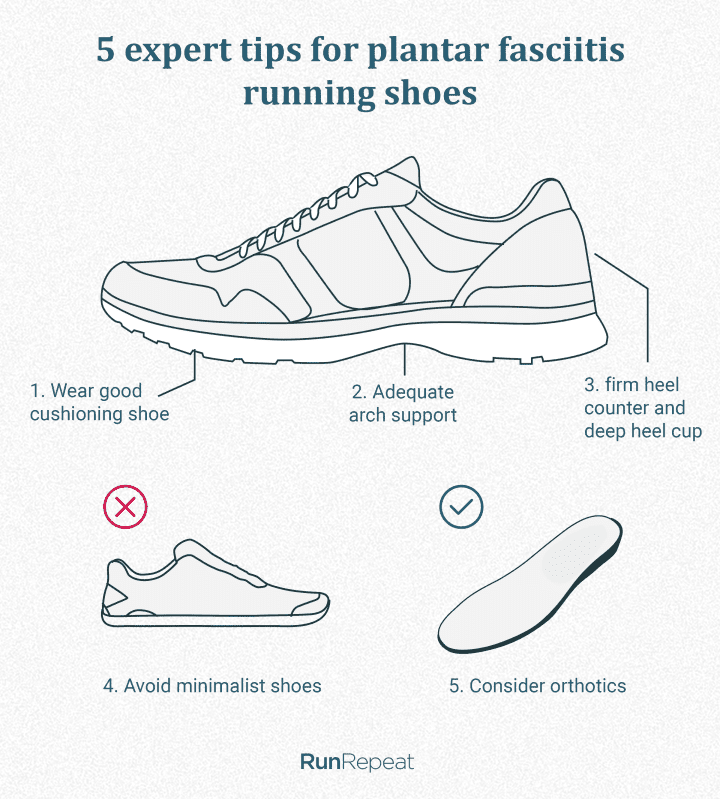 Sneakers for Running with Cushioning
The cushioning in these shoes is designed to provide comfort and support for the entire foot.
The full-length foam midsole cushions your foot without adding excess weight or reducing the shoe's flexibility.
However, the insole in these cushioned shoes tends to be flat, if you have flat feet then you must insert an appropriate midsole into it.
Additionally, the breathable, stretchy knit upper hugs the shoe to the foot without trapping heat.
The rubber outsole is naturally flat and thick, so you are well protected.
The fit of The Stability Shoe
If the fit of the running shoe is not great, then your plantar fasciitis will get worse.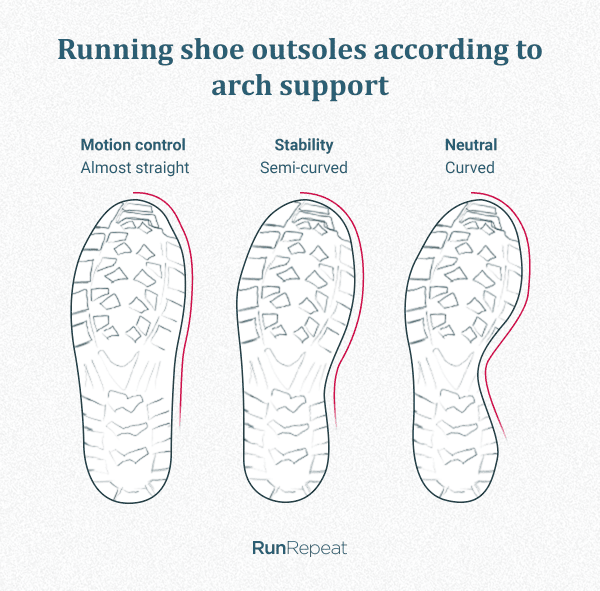 Thus, fitting of the shoe is an important quality to consider when it comes to a stable shoe for running.
The right pair of shoes will provide support and cushioning without being too tight or too loose.
Get shoes that relieve pressure on the arch.
Shoes with good arch support will help to take the pressure off of the plantar fascia.
Orthotics
Orthotics are devices that you wear inside your shoes. They are designed to support the arch of your foot and relieve pain in the heel and arch.
Orthotics can be fitted into your current running shoes.
You can also buy shoes that have a removable insole, which makes it easy to add an orthotic.
Orthotics are shock-absorbing and flexible. They can absorb 30% more ground shock than regular running shoes.
This helps to minimize tension on the plantar fascia, which can lead to pain relief.
If you wear custom orthotics, consider buying a shoe with a removable insole.
This will make it easy to add your orthotics to the shoe.
The midsole is a very important part of the sneaker because it is responsible for both the stiffness and the cushioning.
It should be stiff in order to provide good support, and it should be cushioning in order to absorb impact and protect your feet. Additionally, it should be thick so that it can do its job properly.
Midsole
When choosing a running shoe for plantar fasciitis, it is important to look for a shoe with a stiff midsole. This will provide support and stability for the foot.
The midsole should also be cushioning to protect the foot from impact.
A thick midsole will provide more protection and support than a thin one. You should also consider responsive cushioning like memory foam or gel. These provide extra stability and are an excellent option to choose from.
Price Helps with Choice
Think of your feet as an investment in your health. Good shoes and proper foot care can help you stay active and pain-free for years to come. Foot health is important, so be sure to take care of your feet!
Best Running Shoes for women in India
Symptoms of Plantar Fasciitis (Foot Pain)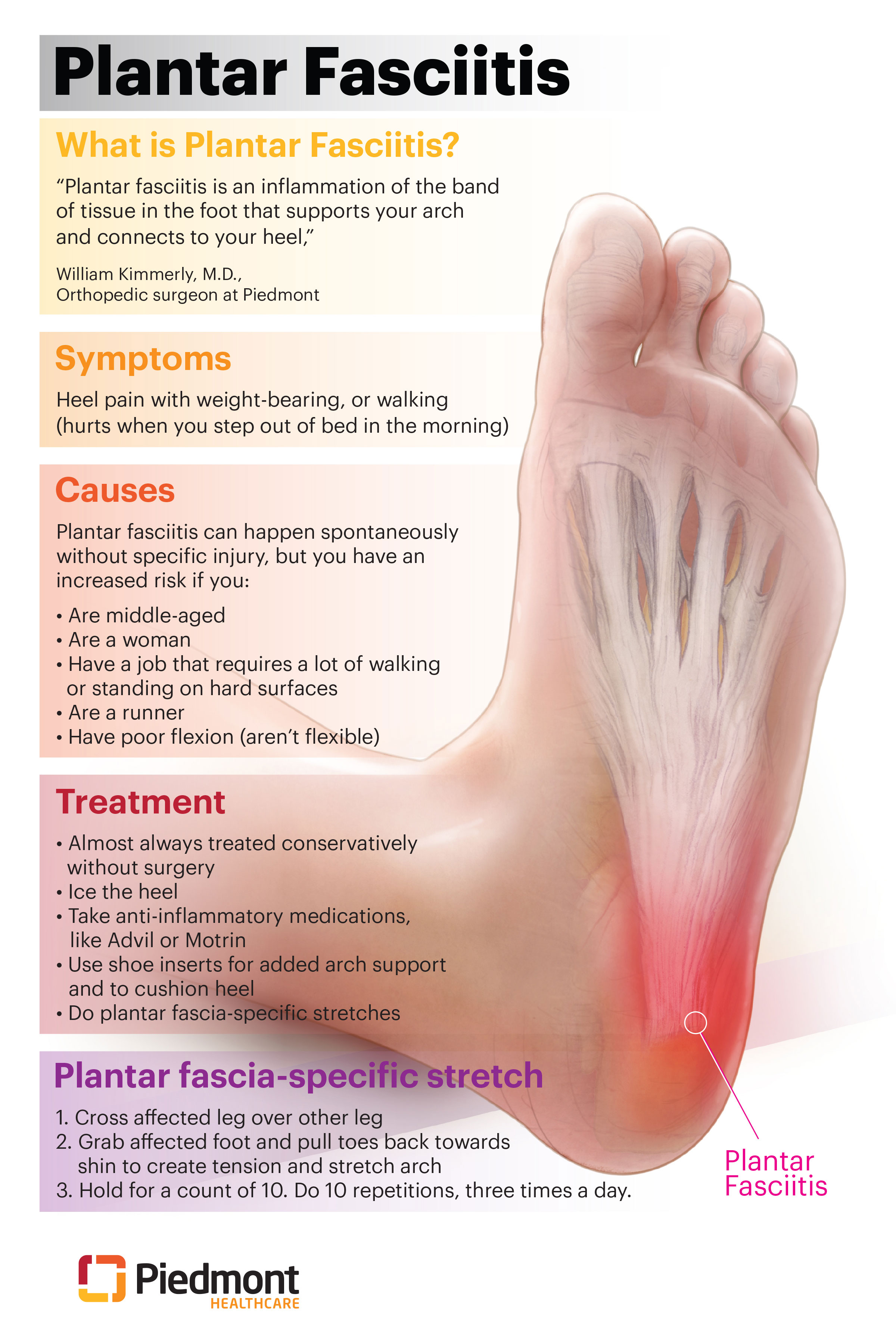 Plantar fasciitis is a condition that causes pain in the heel of the foot. The plantar fascia is a band of tissue that runs along the bottom of the foot from the heel to the toes.
The plantar fascia helps to support the arch of the foot.
When this tissue becomes inflamed, it can cause severe pain in the heel.
There are several symptoms of plantar fasciitis, including:
Heel pain right after waking up in the morning.
– Difficulty walking
– Swelling, achiness, and numbness
– Warmth of the muscle and tissue of the plantar fascia will "warm up" and the condition will subside
Causes of Plantar Fasciitis
Plantar Fasciitis is often caused by small tears in the foot ligaments and inflammation.
Plantar Fasciitis can also happen if you are overweight and walking or standing on your feet a lot.
Running excessively, running on irregular or hard surfaces, overprotection with ambulation, and tight Achilles tendon should all be considered when determining which shoes are best for patients with Plantar Fasciitis.
Is Running with Plantar Fasciitis Possible?
Yes, it is possible to run with plantar fasciitis, but it is important to cease running for at least four to seven days once a plantar onset comes.
You should also wait until you have been pain-free for four weeks before resuming running.
It is important to listen to your body and not push through the pain.
Running with plantar fasciitis can make the condition worse and lead to further injury.
Studies show that it is best to tape, stretch and follow the advice that your physical therapist gave you is the best treatment option that you can have.
Best running shoes in India under 1000
Why are my Running Shoes Giving Me Blisters
Is zero drop good for plantar fasciitis?
All running experts agree that Zero Drop shoes are not good for platar fasciitis. They might even aggravate the pain. As per a study, those who do not wear recommended shoes suffer the most from plantar fasciitis symptoms.