Get the best rowing machine India
your money can buy
Join me, Samarjit Sinha, a seasoned home gym user, uncover the essentials for creating the ultimate list of Rowing Machines. Drawing from a decade of fitness expertise, I emphasize the importance of rowing machines for complete home workouts, despite potential setup costs. These machines offer enhanced cardio health, endurance, and full-body toning, coming in various types such as Manual, Magnetic, Water, Flywheel, and Hydraulic.
I also explore the possibility of crafting homemade rowing solutions for the DIY enthusiasts. Throughout the selection process, I consider factors like silence, compactness, and low maintenance to find the best rowing machine and avoid workout monotony.
Stay tuned for in-depth reviews of top picks like Concept 2 Rowing machine ROWERG and Cultsport smartROW C1, tailored to different preferences and heights. My insights offer a mix of budget-friendly and premium options, ensuring an informed choice that aligns with individual fitness goals.
For a great cardio workout, a rowing machine is a must for a home gym in India
But a Rowing Machine in India will increase your home gym setup cost as well.
But if you are short on time, then a rowing machine is your answer to a full-body workout.
You can improve your cardio health and endurance and tone up your entire body. You won't have to look for larger size clothes any more!
You will not huff and puff with your daily commute to the office or get out of breath climbing upstairs :0
This is what a rowing machine can help you achieve.
Now, are rowing machines for weight loss only? NO.
Any compact rowing machine for home helps you build your aerobic fitness. The inclusion of a rowing machine for the Indian home gym helps build up stamina, which we all lack.
Personally, I would not like to spend for a single-purpose home gym equipment which is as costly as a rowing machine, but many do like them.
Many do like that rower can provide a quick, intense weight-loss workout at home.
PS: Did you ever try the seat and the slider on the rower to do Cossack squats or Pilates? Just trying to find more usages for a rower machine!
10 Best
rowing machine india

Online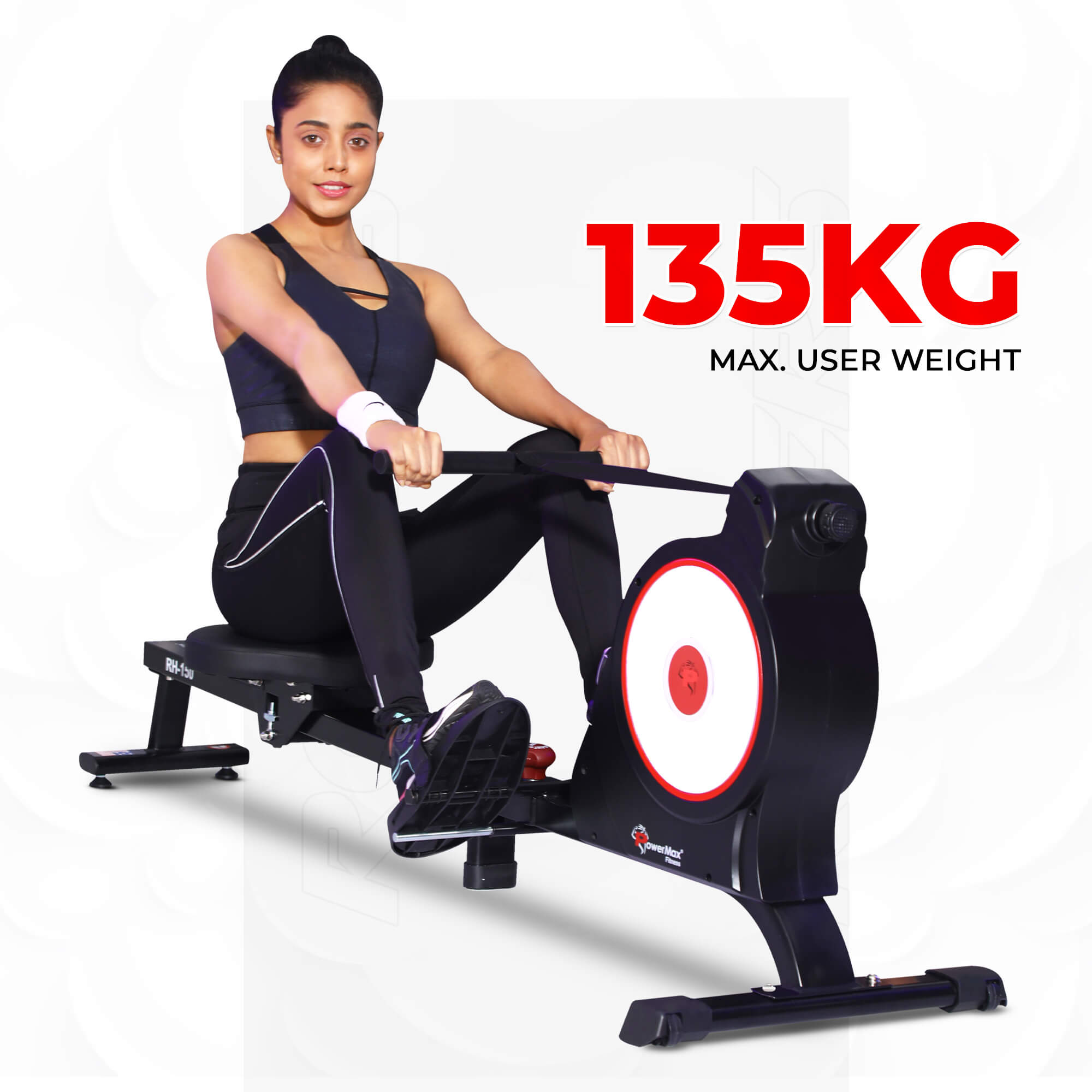 There are some great rowers available in online stores in India. And there are different types of them like –
Manual rowing machines

Magnetic Rowing machines

Water Rowers

Flywheel Rowing machines

Hydraulic Rowing Machine
If you dig on the internet a little more, you will see guides on creating your own homemade rowing machine.
But you do not need to build yourself a rowing machine for your home gym. We do not do bodybuilding full-time, and we have family and work to attend to.
And if you are like me then you would not probably go for the costliest rowing machine for home either. Because that does not make sense for a budget home gym in India at all.
However, if you want one, the best rowing machine for home workouts should be silent, compact, low maintenance, and takes less space.
If you are not bored with elliptical trainers and treadmills, you may skip rowing machines.
Sooner or later it will get boring unless you mix some weight training with it.
I find treadmills as most boring, then elliptical trainers and rowing machines.
Now many companies ship rowers with apps that can give you a virtual rowing experience.
So what is the best rowing machine to buy for home use? Here are 10 of them which you can find online in India!
Top

10

Best rowing machine India for home
Review
Concept2 ROWERG Rowing machine review
Top Use Case: No 1 Commercial Rower
Concept2 rowing machine are the leading, top class rowing machine that costs like an iphone.
And it is like an iPhone is the premium and gold standard item when it comes to rowing.
If you have an ample amount of space, and deep pockets, then you can consider this beast to be your training partner.
Considering that this is mainly a flywheel with air resistance—I find it really costly. But it is of commercial grade.
Positives of Concept2 ROWERG
If you enjoy rowing, then you would not mind the price tag. It is the best rowing machine on Earth that your money can buy. With 94% positive reviews—if you have the money, get this one.

Be proud that you are using the same equipment as Olympians, and world-famous athletes use.

It is built like a tank with its powder coated body based on aluminium and steel body.

The whole rower is only around 32 kgs while being very durable and commercial grade. You can move the rower from one room to another. Or just detach the parts into two and move it around. It is highly portable, even when it looks like a mean machine.

Overall, assembly is simple to do. Just attach some screws, attach the legs and you are done.

The functioning and moving and back front on the rail is almost noiseless and very smooth. There are no jerks, rumbles, or grinding at all.

The handles have some type of rubber coating, so they don't slip out of your hands. But you might want to wear some gym gloves to avoid some calluses.

The PM5 system looks old school but works just fine. You can add your own programs or use the preset programs. I would urge you to use the Ergapp to synch your data with the PM5 via Bluetooth. No need of USB drives or fiddling through the screen of PM5.

While being a sophisticated machine, I used to think the maintenance would be a ton of work. But as per my research, the maintenance seems very simple. Just wipe it clean, oil the chain once a month or two.

The rowing position is very comfortable, it does not put your low back or upper back tensed.
Negatives of Concept2 ROWERG
Not so silent—especially when being used in a small space. But the workout features and functions are top-notch, I would still get this rower if I could. Any boat's earbuds would block the sound.

It is an air resistance rower, so there will be some noise levels.

The size of the rower is really long, and no matter your height, you can use it. But it takes up a lot of space horizontally. While it is best suited for commercial gyms, I would how would it fit in Mumbai middle-class family's flat.

The model E is probably better for knee issues than the Concept2 Model D Indoor Rowing Machine. Model E has a higher seat.
Why Should you buy this!
Will you actually row every day? Will you be able to do this for years to come in the future?
You might ask me—"Why are you asking this, Samarjit?"
Well, my friend, I am sceptical about spending more than 1 lakh INR on a piece of gym equipment which allows only one form of exercise.
But on the opposite side, if you are serious about rowing and will not stop unless you get the absolute best, then get this Concept2 Rowerg model for yourself.
You get what you paid for, and you paid for a commercial-grade rower built for champions.
Top Features!
Same rowing machine which Olympians use for their training.

A commercial grade item with solid construction.

Maximum user weight capacity 135 kgs.

Rower is standing on two aluminium front legs and two back steel legs. The rest of the body parts are made with ABS plastic.

Powder coated finish.

Nickel-plated steel chain.

Comes with a PM5 performance monitor.

Noise minimizing flywheel.

Low profile 14 inch wide height.

Quick release frame lock mechanism.

Comes with a FREE app ERGdata
DOMYOS Rowing Machine Self Powered 500B
Top Use Case: Budget Premium Rower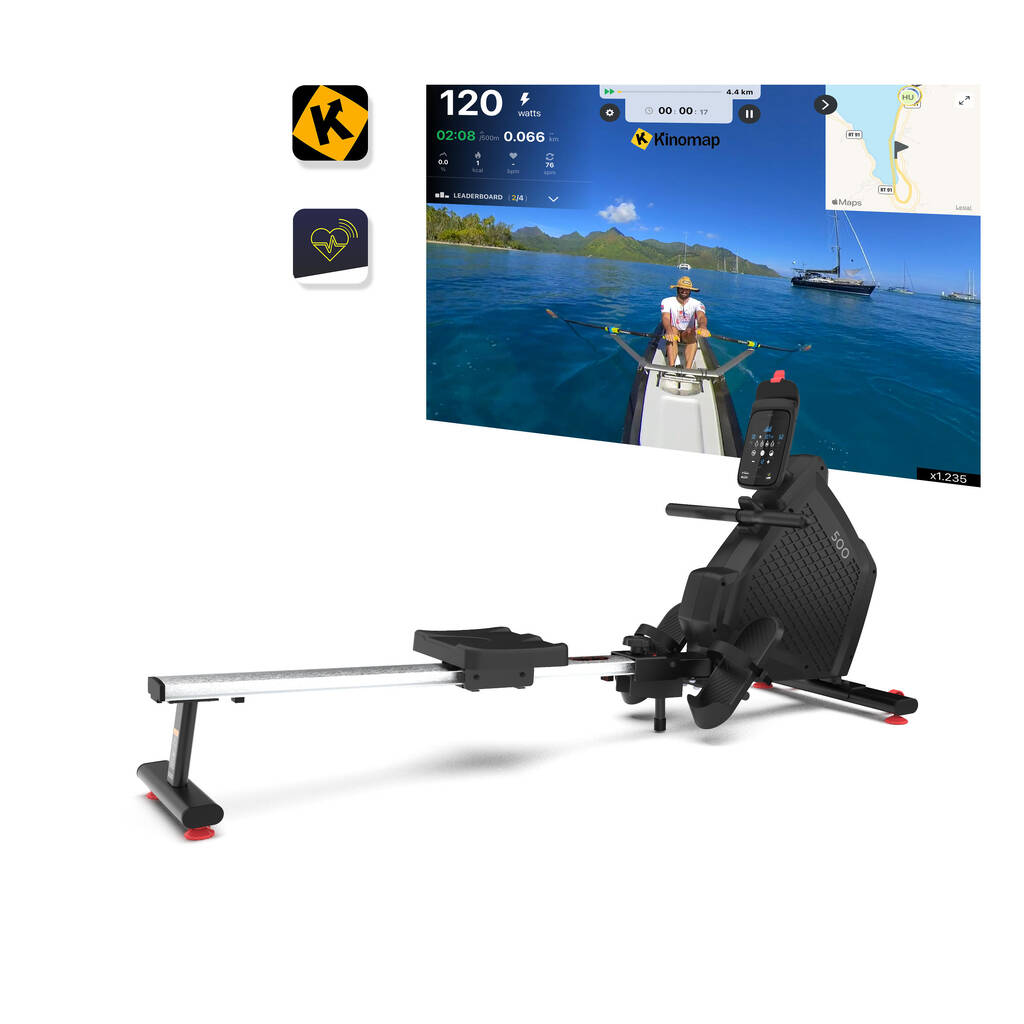 If you want a semi-premium rower with smooth gliding action then this Domyos 500B rower is a good option. You can also check this in the Decathlon showrooms and sneak in a 10-minute exercise routine to check if you like the feel of it.
Eh?
Don't do it.
Positives of Domyos 500B
This is a magnetic resistance rowing machine, thus it is way more silent than air rowers.

Anyone with any fitness level can use this as a piece of cardio equipment at home.

When folded, this 500B rower takes around 29.1X22.7 inch space and 56.7 inches of height. So it is suitable for home usage.

The design of the flywheel area is covered, so it saves your maintenance time.

There is a phone holder, but I do not trust it, I feel my phone will fall off from that holder.

With a max user weight of 130 kgs –  it will surely accommodate the big boys and give them an effective workout.

You can use the KINOMAP app on your phone and try to get an immersive feel.
Negatives of Domyos 500B
Someone tried this decathlon rowing machine in the showroom and remarks that the feet straps are not upto the mark.

People have complained about wrong data on the screen.
Why Should you buy this!
A semi-premium magnetic rower at home surely gives birth to some fun workouts. If HIIT workouts are your thing, then you would love this. Moreover, I like the fact that you can visit their shop and try the cardio equipment to see if you like it.
The price range is around 40k, so I guess if you are happy with doing one type of workout daily, then go for it.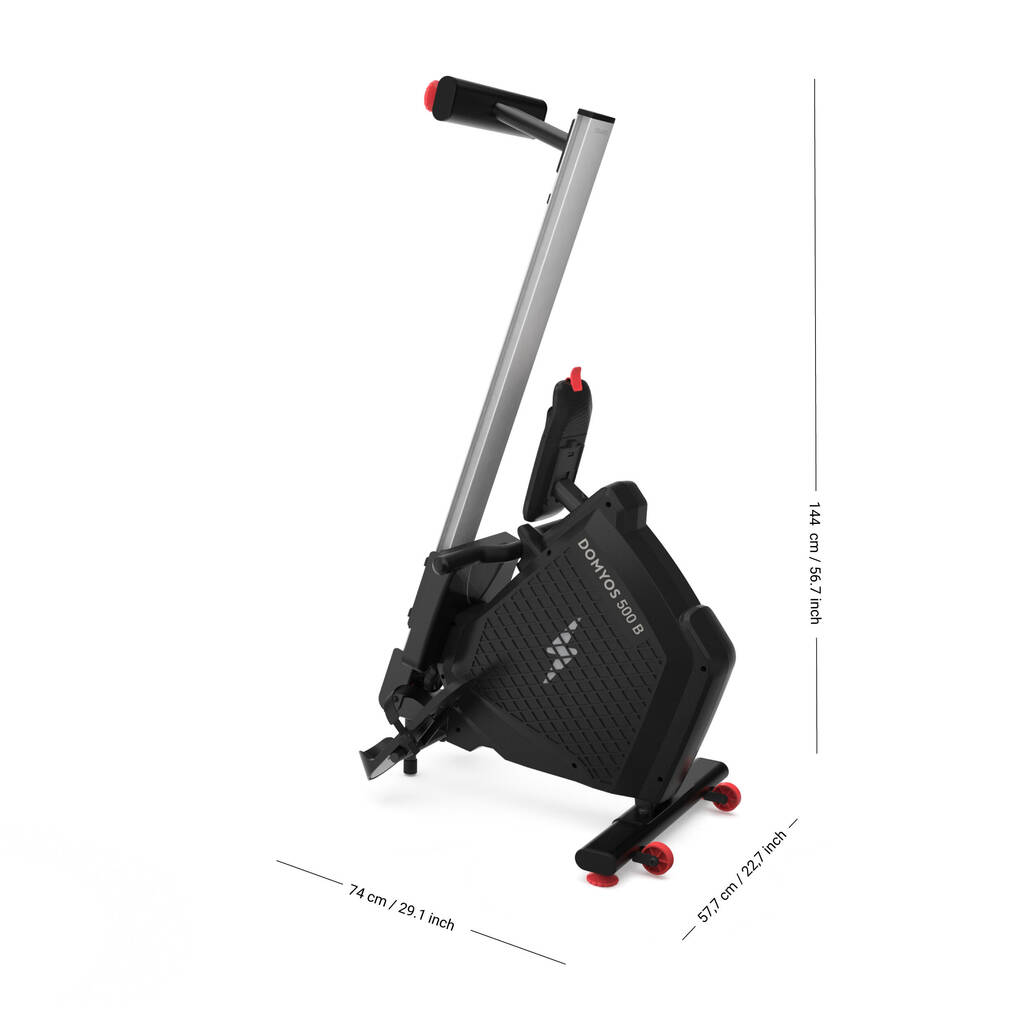 Top Features!
This Decathlon rowing machine has a  compact foldable design.

500B is made with ABS plastic and Steel.

Self-powder rower so you do not need a power outlet.

Has a 6 kg magnetic flywheel.

15 resistance levels to choose from.

Lower noise than air rowers.

Max user weight 130 kgs.

Comes with 6 functions and 9 programs.

You can connect to applications like KINOMAP.

The contoured seat is wide enough and feels decent.

Limited two years warranty.

The LCD display has controls and can show you pieces of information.

Comes with foot straps.
Flexnest Flexrower Plus
Top Use Case: Wooden Premium water Rower
Wooden rowing machine which is also a water rower is a match made in heaven. This water rower is one of the very few water rowing machines in India that you can buy.
The wooden frame and the water does give you a feel of rowing while sitting in a canoe.
In this Flexnest Rowing Machine Review, let's see if it is any better than how it looks!
If I try to compare it with other rowers in the same price range, then this rower does feel like a premium and level above others.
Now, it is not meant to be a commercial-grade item like the Concept2 rower.
But for home use, this is an awesome item that you can buy if you love rowing.
Positives of Flexrower Plus
This is one of the top-notch water rowers in India which will give you a nice feel of rowing like in a water body.

The build is excellent, it looks classy and it is sturdy too.

The high-quality beechwood imported from Croatia surely doing its job for us.

It does not shake or move while you are rowing. The whole motion feels really smooth.

The handlebars have a matte-like finish and do not slip away easily.

While I am not a fan of virtual rides or apps that come with gym types of equipment – the flexnest app is awesome. You get motivating trainers, 30+ virtual rides, leaderboards, a community of other users and more.

I do recommend you use a smart TV or your tab to use with the rower to get the actual feel of rowing out in the wild. Use speakers as well.

With FREE 1 month subscription to their app you can get a personal trainer 24/7 as well.

Another positive point of this water rower is that it looks really modern, aesthetic gym equipment. Modern homes would look futuristic with this water rower.

The high-density hydro blades in the water tank ensure that you get a balanced resistance, natural water feels and controlled movement.

When you are done with setting the water rower—you will feel that it is something made with care and ergonomics in mind.

The cushioned contoured seat feels nice and your butt will say thank you for this.
Negatives of Flexrower Plus
Few buyers are not happy because they see that the Flexnest app is not showing the workout details correctly.

Buyers comment that it is hard to remove water from the water tank—it is kinda the same for all the water rowers, though.

Somewhat expensive, considering a new water rower from a new brand.
Why Should you buy this!
I would not recommend you buy this water rower for the app. In general, if you like to own a wood-based, modern-looking rower machine, then get this one. But do not spend that much money on the app-based features.
Hardware-wise, the rower feels solid and is one of a kind in India. It is not particularly silent, but the natural water. The sound does feel nice to me.
And the design is really ergonomic but it takes some space.
Thus if you have the space, want a water rower, can spend the money – then enjoy this hydraulic resistance rowing by Flexnest plus rower.
Top Features!
Large water tank, natural water feel. The resistance type is water-based.

100 levels of resistance.

Adjustable foot strap.

Ergonomically contoured seat.

Foldable design.

Transportation wheels.

Comes with 400 workouts, virtual rides and classes by Indian and international trainers.

Available mode: Quick rows, Virtual rows, Class rows.

Bluetooth connectivity for Android and iphone.

FREE 1-month Flexnest subscription.

Made with imported wood in ash wood colour.

Flexrower plus is 7 feet long and 20 inches wide.

42 kg weight.

Comfortable grip.
Cultsport smartROW C1
Top Use Case: Durable Magnetic Rower
When I first saw this Cultsport SmartROW C1 rower I thought it looks like a spaceship. With a cushioned seat, and 100 magnetic resistance levels of resistance, this premium rowing machine is a beast for a home gym.
Positives of Cultsport smartROW C1
This rower acts like pro-level rowing machine but takes less space than them. It has a premium and futuristic look to it.

Being a magnetic rower, it does not make a high sound like air or water rowers.

The 100 levels of magnetic resistance control give you ample options for progressive overload.

The handlebars are rugged and have a good grip.

Unlike many other rowers in India the seat is padded and comfortable. This is kind of a rare thing in rowing machines. :p

There is a small LCD digital display that will show you details like distance, calories, time etc.

This rower can enable you to do full-body exercise in a small space and being silent will not wake up your neighbour as well.

People really appreciate the 1:1 dietician consultation and really happy with the service they are getting.

People really like how easily they can use Bluetooth to connect to the app. You can then join in games, and travel to 100+ destinations with your rowers.

You can use your own phone or tablet with this rower, you do not need to pay extra for any proprietary tablet.
Negatives of Cultsport smartROW C1
Tall people over 6 feet might find this rower problematic. They should consider Flexnest, Domyos or Concept2 models.
Why Should you buy this!
If you want to work out with a gym equipment with gorgeous appearance but with minimal space then this C1 rower is your best bet. It has useful app usage, especially the 1:1 diet consultation.
Apart from it, hardware wise this aluminium, steel semi-commercial type rower is awesome for full-body workouts at home.
Top Features!
This C1 rower is made with a steel frame with 110 kg weight support. The monorail is made with aluminium feet and a rack.

It has electromagnetic resistance which can be controlled using 100 resistance levels.

Being magnetic resistance, the rower is a silent one.

Non-slip rubberised handlebar.

Has an ergonomic padded seat.

Foot pedals have straps which you can use.

It comes with a free CULTPASS subscription for 3 months. You get access to home-based workouts, celebrity workouts, goal-based sessions and meditation sessions.

You also get a free dietician subscription, which gives you 1:1 sessions with expert dieticians. 3 months diet plan. And you can use the app for diet review and tracking.

Get 100+ scenic rides and virtual experiences.

C1 rower is around 5.5 feet long and 1.5 feet wide.

650+ cities and 29,000 pin codes are serviceable by them.

You can fold it when not in use!
PRO TIP:
As far as app and subscriptions are concerned, Cultsport C1 is a better option than Flexnest. With Cultsport you get free diet with 1:1 consultation, CULTPASS for three months. Flexnest only provides 1 month free instead of three months. These features are not available with Flexnest rowers.
AFTON Xterra ERG 600W Water Rower
Top Use Case: Budget water Rower
Let's talk about this premium hydrow rower by Afton. This hydrow rowing machine is a must if you want the feel of an open-water rowing sensation. It is relatively noisy, but it is the sound of the water that we are looking for right?
Positives of AFTON Xterra ERG
This is one of the credible commercial-type water rowers or hydrow rowers in India.

This is also a very long hydro rower, like the air resistance-based concept2. It is around 6.6 feet.

6 levels of water resistance you can use with clear markings on the container. Just pour more water to make your conventional stroke harder.

The multi-bladed system generates a soothing sound which might even calm your mind.

The seat on this rower is quite more comfortable than many other models.

Apart from the water sound, the rowing machine does not produce any sound at all. The rails are very smooth.

Since this water rower has flexible pedals, it fits feet of all sizes easily.

Senior citizens are also using this cardio equipment easily!

This rower is also very stable and does not even shake when you are doing quick strokes!

With the wheels, it is easy to move around.
Negatives of AFTON Xterra ERG
Takes a lot of space.

Costly if you consider that you can only do one type of workout only.
Why Should you buy this!
I would go out a limb and say if you want a concept2 rower alternative at lower costs which operates at a normal volume, then you can get this one.
With this, you can get the soothing sound of water and intense workouts. 
The build quality is also very good, all that steel, and aluminium used gives it durability and unmatched sturdiness.
Top Features!
300 lbs weight capacity.

6 levels of resistance.

80.7 inches in length, 22 inches in width and 33 inches in height.

Can be folded/tilted when not in use, (L x W x H): 33" x 22" x 80.7".

It generates smooth strokes and generates almost life-like water-splashing sounds from rowing.

The seat height is 13.5 inches.

5.5 inch LCD screen with height and angle adjustments.

Unique programmable modes like race against the computer, time countdown, distance, strokes countdown, strokes/minute etc are available to use.

Aluminium dual rails with a steel frame provide smooth strokes and motion.

The pedals move with your feet for comfort and ergonomics, these are called flex pedals.

The rowing handles are padded and long.

Comes with built-in HR receiver.
PRO TIP: If you do not want any options of using fancy apps which charge you after a month or three then this hydro rowing machine is your best choice.
It is a semi-commercial type rowing machine with almost 150 kg of max load, suitable for taller users than this model will enhance your indoor rowing experience by a notch for sure. 🙂
Almost everybody loves the soothing swooshing sounds of water!
PowerMax Fitness RH-250 Foldable Rowing Machine
Top Use Case: Budget rower for home
If you are after a budget sturdy rower then you can get the RH-250 foldable rower for your home. The aluminium side rail is smooth and almost noiseless.
This budget foldable 8-level magnetic resistance rowing machine is your friend when your pockets aren't deep enough.
Positives of PowerMax Fitness RH-250
The rower is lightweight and easy to move around.

At the longest it is around, 5.5 feet, so it is one of the smallest rowers. So it will fit in your apartment just fine.

The knob-adjusted magnetic resistance is easy to access.

The handlebars are slim and have some texture, so they will not slip.

The ergonomic seat is decent, but it might feel hard to those who have soft a** like me :p

The magnetic system does not produce much noise at all, no matter what your stroke rate is.
Negatives of PowerMax Fitness RH-250
Few people complain about the flywheel breaking after a few months.

Many also complain about its durability.

Taller people might have some issues using this rower. Short people like me, don't bother, please.

The pulley rope system is not known to be the most durable.
Why Should you buy this!
If you are obese or just want something to lose calories and tone up your muscles, then you can use this rower. It produces a low amount of noise, so it can provide you with an excellent workout without waking up your parent's next door 🙂
Top Features!
4 kg flywheel with 8 magnetic resistance levels to choose from.

Maximum supported user weight is 120 kgs.

Large foot pedals with strap.

Pulley rope system.

Anti-slip handlebars.

Moulded seat with some ergonomics.

The LCD display is placed a nice distance from the user. It can show you time, calories, distance etc.

You can use their mobile app to sync the data.
Flexnest Flexrower Smart Imported Wood Bluetooth-Enabled Magnetic Rower Rowing Machine
Top Use Case: Wooden Magnetic Rower
Flexnest makes this list again with another of their wooden rowers. But now this is a magnetic rower and not hydro.
If you are a fan of no noise, and quiet rowing then you will love this stylish rower for doing workouts at home.
Positives of Flexrower Smart
This rowing machine uses magnetic resistance but tries its best to mimic the sensation of actual outdoor rowing.

They are focusing on enhancing the rowing sessions with various modes like quick rows, class rows, virtual rows etc. I personally like virtual rows, all you need is a smart TV to run the app. And some money to get past the 1 month subscription.

The rowing machine features an impressive design made with ash wood and the rails are really smooth and silent.

The ergonomic seat is very comfortable to sit and work out for straight 30 minutes easily!

The size of this Flexrower is not that long, thus it can fit in a small space in your home gym as well.

And this is a resistance rowing machine with transport wheels, so you can move it around your house easily.

Moreover, you can just fold the Flexrower, and it just looks like modern wooden furniture or a piece of art. 

The foot pedal is very secure and adjustable and the rowing motion is very smooth, like gliding!

Buyers often comment even with that modern premium look, this rower is built like a tank. It does not shake, does not make a squeaky sound—it is just solid.
Negatives of Flexrower Smart
The trainers often remind you that you are on the base model :p
Why Should you buy this!
If you do not consider the looks and the app even then this rowing machine offers excellent resistance, smooth functioning and sturdiness.
From the comfort of your home, you can do full-body workouts as silently as possible with this flexrower.
And if dig the wooden look then I am sure it will shine in your home gym. Heck, this should be the centrepiece in your home gym.
And if you have pocket full money, and you are a fan of rowing, then getting their subscription is a no-brainer!
Top Features!
India's 1st Bluetooth enabled rowing machine which can steam on-demand classes to your phone or tablet. 

1-month free access to Flexnest content.

Use virtual rides to various lakes around the world.

Get access to 200+ workouts.

Max supported weight 120 kgs.

Magnetic rowing system.

Silent function.

Elegant design—you do not see wooden rowers frequently. The majority of the equipment is made with ash wood.

This Flexrower smart is around 5.6 feet long, so it should fit almost any room.

Comfortable seat.

Adjustable foot strap.

Tablet holder.
Reach RW-1000 Rowing Machine for Full Body Workout
Top Use Case: Budget magnetic rower for tall people
Reach RW-1000 is a budget magnetic rower with 2.5 kgs of flywheel. The best use case for this model should cardio and weight loss applications. Overall, this one looks pretty modern and comes with a comfortable padded seat.
Positives of Reach RW 1000
Reach RW 1000 supports 130kgs of user weight, thus if you are on the heavier and taller side of life then you will find right at home with this equipment.

The pedals are large, and the strap adjustments are good.

The handlebars have a foam cover, so your palm will be protected. And surely it will not slip.

The rower is really long, but if you fold it up, then it takes a much smaller space. You can just move it with the wheels and store it away.
Negatives of Reach RW 1000
Not strong enough to tone muscles, I would assume.

Reach RW 1000 will take a longer space, but it can be folded to save space.
Why Should you buy this!
If you love rowing and do not want to wake up the entire house, then get Reach 1000 to get shit done from the convenience of your home!
The resistance is low but for obese people, it has good news, the seating area is soft and large, you know what I mean.
The length is long, but tall people or people who want to move more might appreciate it.
All in all, I recommend this to be used in hours when you need to shed some calories but not food 🙂
Top Features!
This rower despite being a budget offering is pretty long, It is about 6.5 feet in length.

Max supported user weight is 130 kgs.

The pedals are adjustable and have good straps on them.

The resistance can be controlled using a knob and has 16 levels of resistance.

The handlebars feel small but have a foam cover.

Can be foldable and move with the wheels.
Durafit Scullos Rower
Top Use Case: Budget cardio option
This Durafit Scullos rower is a blend of budget and design. I like this flywheel area design which seems like glowing. And despite being made with steel you can fold it and store it away. You can easily get a full-body workout at home.
Positives of Durafit Scullos Rower
This rower is good for beginners, it has a a low amount of resistance, thus newcomers can train themselves easily on this.

The max user weight is at a decent limit so heavy people can use it and shed some fat if they use it.

It is very easy to operate the rower and get a low-impact workout from it.

This one is foldable, thus you can easily store it in small spaces when not using it.

You can easily assemble it and start the workout in no time.

Seniors should be able to use it very easily!
Negatives of Durafit Scullos Rower
Some people complain about a faulty product.

Not much of options for progressive overload, since the resistance is very low.
Why Should you buy this!
This Durafit rower is silent and easy to use. This model is lightweight and foldable and great for medium usages in home.
If you are buying this, get this model for only doing cardio, since the resistance is low you can not tone your body much.
But with a long a** workout, you can burn some calories for sure.
Top Features!
3 kg flywheel, magnetic resistance with 10 levels of adjustment.

Max user weight capacity is capped at 100 kg.

The LCD display is conveniently placed and can show you time, speed, calories, pulse and distance.

The length is about 5 feet 7 inches.

Since it does not have additional features, it is a very simple machine to use.
Stunner Fitness SRX-550 Magnetic Rowing Machine
Top Use Case: Heavy flywheel low cost rower
Stunner Fitness SRX-550 is a silent budget rower that can be used by the entire family for cardio workouts. It is a great option to bring the entire family to your home gym for a short burst of cardio workouts.
Positives of SRX 500
With a decent weighted flywheel, this is a decent choice for budget buyers.

You can control the resistance with 10 levels, so you can progress as you please.

SRX 500 does not make much noise or rattles or shakes when being used.

There is a 15-degree tilt to get more natural rowing motion from this model. 

The ergonomic seat with ball bearing promotes healthy sitting for prolonged period.

The pedals are large and non-slip, and the rail is decently long for taller people too.

The LCD screen can show you rowing count, calories, distance etc. There is no app connectivity though.

The handlebars have anti slip design, so you can go berserk without having the fear of slipping the handlebars.

Buyers often recommend SRX 500 as a value for money, space-saving and time saving gym equipment.
Negatives of SRX 500
Some buyers are clearly not happy with aftersales or return/replacement.
Why Should you buy this!
If you want to have some silent rowing experience at home at low prices, then SRX 500 is a decent choice. It has a decent flywheel weight and durability to be used by more than one people at home.
Top Features!
7 kg flywheel.

15 degree angled seat rails.

48 inch slide rail length to accommodate taller people.

LCD display placed in the flywheel case.

Multi angle rotary foot pedal.

Pedals are anti-slip and have straps.

Built in transportation wheel.

SRX 500 can be foldable and locked in that position.

Max weight supported is 110 kg.

Ergonomic seat design.
Best Budget rowing machine in India
These are one of the best budget rowing machine in India. Rowing machine are costly and take up a lot of space, but these are on the lower side of price. And as the price is lower, they also lack some cool features than their big brothers.
Nonetheless, if you are up for those tiny bells and whistles, then these budget friendly rowing machines are for you.
Dolphy Rowing Machine Indoor Rower
Top Use Case: Cheapest rower for home use
Positives of Dolphy Rower
This is a low cost, super easy to install cardio machine. Anyone can use it and install it.

For a budget rower, the resistance is awesome, and you can surely do some heavy cardio with this.

Users like this small form factor and the ability to do cardio workout that is not taxing on their joints.

This is a value for money item for weight loss focused home gym builders.
Negatives of Dolphy Rower
No water splashing or air whoosing sound for you.

It is crudely made but, some welding marks here and there, but I should not expect craftsman ship at this budget.
Why Should you buy this!
If you just want a small sized machine for weight loss or cardio workout purposes, then you can get this rower.
It is certainly better than treadmills in this price range, and it will train your entire body.
And generally rowers burn more calories than gym cycles—so for budget fat loss goals this is the one you should get.
Top Features!
Very small in size, just 4 feet in length.

The seat has a thick foam and is comfortable.

12 gear adjustable resistance. The resistance is hydraulic.

3 position height adjustment.

Comes with tracker and monitor to track your progresses.

Pivoting foot pedals with straps.

Non-slip handlebars.

Max user weight is 90 kg.
Dolphy Rowing Machine Indoor Rower is the cheapest rowing machine with 12 gear options online. It is only 4 feet long, thus it can fit into small rooms as well.
If you just want some rowing benefits but not a fan of fancy, pricer rowing machines then you can get this one!
Make Rowing Machine – DIY Rowing Machine for Home Gym
No special tool needed. (best rowing machine under 500)
Set of exercise bands, Exercise gliders 4.
Rowing is an excellent exercise, but should you spend a ton on it? In my opinion, you should not. For a basic workout, you can even go and use resistance bands for pulling exercises. 
And rowing machines are not a small piece of home gym equipment, They do take a ton of space.
Types

of Rowing Machines
Hydraulic Rowing Machine
For a small home gym in India where space is very less then a Hydraulic rowing machine makes more sense if the budget allows. These do comes with displays and trackers. But hydraulic rowers do not provide natural motion like other magnetic or flywheel rowing machines.
Flywheel Rowing Machines
If getting cold wind during workout is your thing, then Flywheel Rowing machine is best for you. More you put your effort in more the resistance increases.
Magnetic Resistance Indoor Rowers
Quite and smooth movement – Magnetic Rowers do this best and do not break the bank to get one for your home. Resistance can easily be changed and always comes with displays and tracking.
The WaterRower
The water rowers literally have a tank full of water, and more the water level more the resistance. I do not like the fact that I have to pour in water and maintain it so I do not recommend it for a busy office goer.
The shortest rowing machine buy online guide
Price, space, features, durability and usability should be your top concern. But among them for an average Indian this particular machine should not cost a lot of money.
I would suggest that you stick with the budget options but seek for a durable one.
PS: Did you ever try the seat and the slider on the rower to do Cossack squats or Pilates? Just trying to find more usages for a rower machine!
How to Choose The Right Rowing Machine For Home Exercise
Cost of the Rowing Machine

A good/average quality rowing machine like the ones in Decathlon costs around 29000 INR. Is it worth for a commercial gym? Yes. Rowing machine workouts are intense and help in fat loss and muscle building. But for an average Indian who wants to build his own home gym? Mm nope. A high costly rowing machines does not makes sense unless you want it or love it.

Space Required for the Rowing Machine

Average rower is almost 7-8 feet long. With small rooms you can not use a rowing machine. Also people who live in apartments or in small houses – rowers are not a good choice.

Space Required

Display with all types of tracking, and the display should be big with clear texts. And apart from tracking there is water rowing, full wooden rowers and more, more features almost equals to more price.

Usability

A durable rowing machine will serve you years! And with benefits like aerobic workout, fat loss and upper body strength workouts rowing machines are quite usable. Its up to you to decide either a rowing machine is required or not as you can do similar workouts or other type of aerobic workouts with no equipments also.

Durability of the Rowing Machine for Home

A well made rowing machine will be useful or at least 10 years unless there is some failure. I believe magnetic and flywheel based rowing machine will be more durable than other types.
Rowing machine best
workout

sample

Rowing machines basically mimic or try to mimic rowing a boat. In this way, they are mostly work on upper body when it comes to building muscle and strength.

And since a lot of movement is required, with proper diet rowing can also serve as weight loss exercise.

Also, it can build stamina.

For stamina, row 1 minute, 2 minute, 3 minute, 4 minute straight with 30 sec rests. You do not have you crazy fast in this. Instead of minutes, you can also row for longer distance, that would also build your stamina.

For Full body training, where things go interesting –

Row 100 meters

Squat – 20 reps

Row 100 meters

Push up – 20 reps

Split squat – 20 reps

Row 100 meters

Or

Row 100 meters

Burpee

Row 100 meters

Deadlift

By combining rowing with your workouts or doing rows during your rest periods you can squeeze out extra benefits from your workout sessions.

More on Squats here – Best Squat Racks in India

More on All in one home gym equipments
Rowing machine Benefits
There are definitely some benefits of rowing everyday, one is weight loss. For bodybuilding benefits, you will lose fat, so your muscles will become more prominent.
Main rowing machine muscles targeted
Upper back
Obliques
Abdominal muscles
Arms
Pectoral
Also, some lower body muscle that rowing machine muscles targeted
Now here are the core Rowing machine Benefits!
Full body workout with no chance of injury
If you are not doing the rows in extremely bad form, then there is no chance that you are going to injure yourself. And this is a full body workout, so you end up using more muscles and more calories.
Can train more frequently
Less chance of injury, less chance of muscle pain, so you can train more often and burn more calories.
Better Posture
If you are like me doing computer/desk job then you are in a hunched position and damaging your posture. A strong upper back can prevent that. And with rowing you can develop strong back muscles that will prevent bad postures. This is a great benefit of doing upper back exercises.
Great Stamina Builder
Since all of your muscles are being used and whole body is being moved you are using your heart and lungs to an extreme. More blood flow and more oxygen is needed for your body if you are doing rows. Thus you build stamina very quickly!
Alternatives to Treadmill
Rowing machines are great alternatives to exercise bikes and Treadmills. While on treadmill can damage your knees there are no chances of that with a rowing machine. However treadmill still burns more calories than rowers.
But rowers burns more energy than cycles any day!
Can a rowing machine be used for muscle gain?
I believe it is mostly for cardio and fat loss so not so much muscle building.
Frequently asked questions on Rowing Machines
Can you lose belly fat on a rowing machine?
Losing belly fat on rowing machine or if you are wondering if rowing machines are any good? Then rowing machines can provide enough workout to lose fat. But to keep fat away your diet plays a vital role. A rowing machine can help you lose belly fat by giving you a chance of working out hard.
Are magnetic rowing machines any good?
Yes, magnetic rowing machines are very good for home use and also better than air rowers. Magnetic rowing machines are quiet and reliable for home gym. Magnetic rowing machines are the quietest rowing machine out there.
What is the best type of indoor rowing machine?
Considering reliability, usages, low maintenance and silent operation, magnetic rowing machines are the best indoor rowing machines.
Which muscles does a rowing machine work?
Rowing machines provide full-body muscle workouts. When you pull the arms you use your arms and when you push back with your feet and the seat moves you use your lower body. Thus, you use your complete body muscles.
Which is better treadmill or rowing machine?
The treadmill could get boring too quickly and with less care, there is some chance of damaging your knees from the impact when you run. In the case of Rowing machines, it is a very low-impact workout machine, and you get to work on your upper body also.
Is rowing bad for your back?
If your back aches when or after you have rowing, then something is wrong with the posture you were in while doing your workout. Otherwise, Rowing workouts will not hurt your back.
The rowing machine also does not hurt knees or hips. Rowing is not bad for the hips or bad for the knees. Rowing is a low-impact workout, after all.
Does Rowing tone your arms?
Yes, rowing does tone arms and more. A rowing machine can be used for fat burning or for building muscles.
Is air or magnetic rower better?
Air rowers are not expensive, and they use air as resistance and mimic the resistance of water. But not very quiet. With a magnetic rower, the operation is very quiet, and the resistance is easily adjustable as per the user. For home, the magnetic rower is better. The main difference between air and magnetic rowers is how they apply resistance. The harder your workout in the air rower, the more resistance increases, and with a magnetic rower you control the resistance the way you want.
Are water rowers better than magnetic?
Water rowers are loud, louder than magnetic and air rowers. They are bulky and to adjust the resistance you would need to adjust the water level.
Which rowing machine is the quietest?
Magnetic rowers are the quietest, and air and water rowers are loud.
Which is the best type of rowing machine for a home workouts?
For silent and reliable operation, I recommend the magnetic rower. These are foldable, adjustable resistance, average cost and silent thus making a great addition to your small home gym.
What are some common errors while using a rowing machine?
Here are the top 3 common mistakes I have seen people make with a rowing machine.
People often ony use their arms to row. They should engage all of their body to row.

Sometimes people push the rails with their seat using their butt. This defeats the purpose of pulling the handlebars towares you.

Another common minstake that I see people make is to lean too far back without using their arms and back to pull the handlebar.
What is a proper rowing form?
Other workouts to do with a rowing machine!
Ab Roll

Single-Leg Hamstring Curl

Single-Arm Extension/Push-Up

Reverse Lunge with Rotation

Bulgerian split squat

Plank to knee crunch

Lateral lunges
The Last Rep!
In the realm of home fitness, the Concept2 ROWERG stands tall as the unrivaled champion. Renowned as the best rowing machine on Earth, it boasts a robust, commercial-grade build, garnering a staggering 94% positive reviews. Its portability, near-silent operation, and comfortable design, complete with rubber-coated handles, make it a durable and low-maintenance choice. However, for users in smaller spaces or Mumbai flats, its sizable frame may pose a challenge. Despite these considerations, its unmatched quality places it in a league of its own for dedicated rowing enthusiasts committed to daily workouts.
On a semi-premium front, the DOMYOS 500B shines with its smooth gliding action and magnetic resistance, ensuring a silent workout experience. The compact and foldable design, coupled with a generous max user weight of 130 kgs, makes it an excellent fit for home gyms. While its compatibility with the KINOMAP app adds an interactive dimension, some users have reported concerns about feet strap quality and occasional inaccuracies in displayed data. Nevertheless, for those seeking an efficient yet budget-friendly rowing companion, the DOMYOS 500B offers a compelling balance of performance and convenience.