How to Clean Table Tennis Racket rubber – easy tips for cleaning tT rackets
Clean your table tennis racket rubber with a clean cloth soaked in soap water. You do not need any rough material or strong detergent for table tennis rubber cleaning.
Regular cleaning will help maintain the quality and responsiveness of your racket, but it will also help prevent the accumulation of dirt, dust, and sweat.
There are a variety of ways that you can clean your table tennis racket, and there is no rule set in stone for this.
I would simply use soapy water and a clean cloth. If you have a microfiber cloth then you can use it as well.
Key Takeaways
Clean your table tennis racket rubber with soapy water and a clean cloth.
Avoid using rough materials or strong detergents for cleaning.
Regular cleaning helps maintain quality, responsiveness, and prevents dirt accumulation.
Use different cleaning methods depending on the type of rubber (smooth, short pips, long pips).
Use preventative measures such as bat cases and protective films to protect your racket.
Regular cleaning improves performance, extends rubber lifespan, and prevents dust accumulation.
Best Table Tennis Racket under 5000
Clean as Per the Type of Table Tennis Rubber
There are three types of rubber that can be found on a table tennis racket-smooth, short pips, and long pips.
Each type has a specific use case and benefits the player in different ways.
One side of the TT bat has smooth rubber.
This is the most common type of rubber and is used by almost all the TT players in India and around the world.
Using a soft cloth soaked in soap or detergent works best for this.
How to clean short pips?
You can clean short pips with soapy water and a toothbrush. Short pips are most used to absorb your opponent's spin and attack with heavy power.
Smoother rubbers need less cleaning but can be cleaned with soap and water; Short pip rubbers need more cleaning but can be cleaned with detergent and water.
Long pip rubbers can also be cleaned using regular detergent and cloth. Many on this TT forum is also using soft toothbrush to clean it up.
Honestly, I do not think you need costly imported cleaner like the butterfly cleaner.
Regular soap, cloth, microfiber cloth and 
Why table tennis racket is red and black?
Using Dry Cloth
To clean and dry your racket, you can use a dry cloth. Make sure that the cloth is free of any dirt or sweat before using it.
You may also want to change your cloth every now and then to ensure that your racket stays clean.
Use soft cloth always.
Water & Sponge
Use a sponge, make sure that it is damp and not soaking wet.
You can also purchase commercial cleaners, which will do a better job than using water or a sponge, but they are more expensive.
How to Make a Table Tennis Racket Sticky
Using a Toothbrush
To clean ping pong rackets with outward pimples, use a toothbrush.
The toothbrush is not a hard material to remove dirt from tt rackets.
Thus, it is an efficient way to clean table tennis rubber. You can clean short and long pimples with a toothbrush without any worries.
Best Table Tennis Racket under 2000
Alternative Cleaning Methods for Ping-Pong Rubbers
Spray Bat Cleaner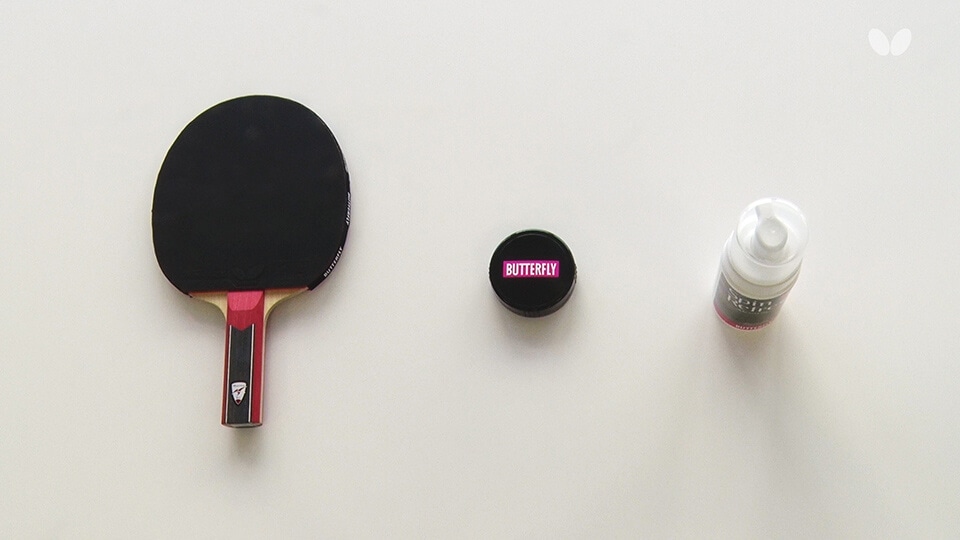 Table Tennis manufacturers often offer a cleaning kit for their products.
This typically includes a spray cleaner, a sponge applicator or microfiber cloth, and instructions.
And these tend to be costly.
Unless you are a pro, you might just skip and save money.
The spray cleaner is fantastic for looking after your rubber after training—it cleans the rubber and removes any dirt or sweat build-up.
The kit is also very affordable, making it a great investment for anyone who wants to look after their table tennis racket.
How Does Playing Table Tennis Develop Fitness Components
Use Detergent / Dishwasher Soap and Sponges
Dishwasher liquid can be used as a cleaning agent for rubber stamps. A small amount of dishwasher liquid diluted with water is enough to clean the stamp; too much soap can damage the stamp.
If there is more difficult dirt and oils, mix water with dishwasher liquid and use a gentle detergent like Dawn or Clean Green Solutions.
Alcohol Rub
While it is okay to use alcohol every once in a while to clean your rubber, you should not use it regularly.
If you do, the alcohol can strip the rubber of its protective coating and cause damage.
Instead, start by using a dry cloth to remove any dirt or debris. Then add drops of alcohol and gently rub it into the rubber surface.
Best Table Tennis Racket Under 1000
Preventative care for your Table Tennis racket
Use a Table Tennis Case
Store your Table Tennis racket in a bat case to protect it from picking up too much dust.
Bat cases come in different designs and sizes, so you should be able to find one that is perfect for you.
You don't need a special type of bat case – any will do as long as it's covered and protects your rubbers.
Look for a store in your area that sells table tennis equipment so you can buy a bat case easily.
Use tT bat protective film
When storing rubbers, it is recommended to use protective films. Protective films help keep the rubber dust free and perform better.
There are several benefits to using a protector sheet on your table tennis racket.
First, the protector sheet is less likely to peel off or tear if it is smaller in size and sticks flatly onto the rubber.
Second, after some time has passed, the protector sheet will look older than the inner rubber, giving your racket an aged appearance.
Finally, when attaching the protector sheet to the rubber, press from the bottom to avoid any air bubbles that may form and compromise the adhesive bond.
Best Table Tennis Balls In India
Why is it important to clean your Table Tennis paddle?
Better Performance from Your Table Tennis Racquet
Dust particles make the bat less effective because it impedes the spin that the rubber can put on the ball.
This is due to the fact that when dust accumulates on the rubber, it changes its texture and makes it harder for the rubber to grip the ball. In order to get the maximum performance out of your table tennis rubber, you need to clean it regularly and protect it from dust.
Long-Lasting tennis rubber on tT racket
You should clean your table tennis rubber regularly in order to increase its lifespan. If you do not clean it, the dirt and dust will get stuck in the pores of the rubber and will wear down the surface over time.
Additionally, if you decide to buy new rubbers, make sure to clean your old ones so they don't end up collecting dust in a closet somewhere.
What to avoid when cleaning a ping pong paddle
Do Not Use Harsh Cleaning Products on Table Tennis Rubbers
When cleaning a rubber racket, it is important not to use harsh chemicals or cleaning products. A mixture of water and dishwasher liquid will be effective in removing dirt and dust from the surface of the racket.
Abrasive scrubbers will damage your ping pong racket
Using an abrasive scrubber on your paddle can scratch and damage the surface of your bat. This will reduce the life of your paddle and make it less effective at hitting balls. Instead, use a gentle cloth or soft-bristled brush when cleaning your bat.
Can You Clean the Table Tennis Racket and Ball together?
You can clean the table tennis racket and ball together with just a sponge/clean clothing and soap.
Just wrap the sponge/cloth around the ball and rub it.
It will dissolve the dust and dirt from it. And for the table tennis rubber, rub it gently to remove it.
The Last Shot!
I have outlined how to thoroughly clean table tennis rubber.
I have played table tennis as a hobby for some time, and it was a cardio workout for me.
So I used to clean them occasionally.
I was just using a small amount of soap and water and just some clothes.
So unless you are a pro, you should not bother much with a cleaner kit from a TT bat manufacturer.