Yoga blocks are used to enhance your yoga posture by either making them more challenging or making them somewhat easier. Yoga blocks can help your get some support to get you to that yoga pose or asana so you get stronger easily. Then you might not need the yoga blocks much.
Yoga blocks are also used for posture correction. I use foam roller as an alternative for yoga blocks. And it is good for chest opening and back release purposes.
The best yoga blocks in India would be of foam, these are cheap, durable and easy to clean. And these also last long. But you can always opt for wood or cork yoga bricks as well.
Top 8
best

Yoga blocks India
| | |
| --- | --- |
| Best Yoga Blocks India | Best As |
| | |
| | |
| | Yoga blocks and belts combo 2 |
| | |
| | Best yoga blocks for home |
| | Best foam yoga blocks |
| | |
| | |
Scroll down to
learn

more on Yoga blocks in India
How to disinfect cork yoga blocks

What is the best material for yoga blocks
Best Yoga blocks

India review
FITSY® Wooden Yoga Block Brick, Set of 2
Final Verdict: If you want a set of two bamboo wooden yoga bricks in India then this is one of the best you can get. There is no strap though.
Fitsy is a great company with positive reviews. And they only sell fitness related items and their items are very good too.
This Wooden yoga block is made with natural bamboo wood which is lightweight yet durable. And there is not such maintenance as well.
This bamboo wood is hard and dense and this will not absorb any sweat.
The edges are smooth which is absolutely necessary otherwise we will injure ourselves!
Measurement: 23 x 15 x 7.5 cm
Buy this for:
Fitsy yoga blocks can deepen your stretches and provide support to your yoga postures.

Great to touch and get support while doing tough postures.

Eco-friendly.

Non toxic

Odorless

A pack of two.
Cons:
Bodylastics Yoga Starter Kit
Final Verdict: If you are after the best yoga starter kit in India that has a good quality yoga block along with a towel and strap, this is the one you should bet! This is one of the best yoga blocks and straps online India.
Bodylastics yoga starter kit contains a foam yoga block, microfiber towel and a yoga strap. All you need to add is a yoga mat and that's it.
Bodylastics is also a great compact which deals in fitness related products and many of their items are of awesome quality and are durable.
The foam yoga brick is measured at: 9 inch length, 6 inch width and 4 inch height.
This size is perfect for most of us.
The Yoga strap is made of polyester cotton material which is soft to skin and is extremely durable. And it is also very lightweight along with the towel and yoga brick.
The strap also has D-ring at the end so that you can adjust this strap to your needs. Shorten it or fold it do as you seem fit for your workout.
The microfibre towel that this yoga starter kit comes with soft and made with hyper-evaporate breathable material. Meaning this will evaporate your sweat very quickly.
All items are moisture proof so that they do not grow bacteria.
Buy this for:
100% EVA foam yoga block

50% Denser than other blocks

Quality items
Cons:
The Gym Bucket Yoga Pilates Brick Wooden Block
Final Verdict: A great product that is durable, somewhat heavy and looks great. It will perfectly match with your home gym and you will be able to do yoga postures better with this. If you are looking for yoga blocks and straps in India then this is a good choice!
The yoga set comes with two wooden yoga bricks and one 1.5 inch strap.
These yoga blocks are made with high density wood with a layer of thin protective sealer. It has a smooth shiny finish that many will prefer.
The wood used is strong, does not bend and have rounded edges. Without rounded edges the experiences with posture correction would be painful.
Note: Posture correction with yoga blocks are done better with foam or cork yoga bricks, as these are little softer than wood.
The blocks are 9 inch long, 6 inch wide and have height of 3 inches. THe yoga strap have great length of 8 feet and is 1.5 inch wide.
Buy this for:
Durability

Weight

Eco-friendly material

Shiny finish
Cons:
That protective layer and the shiny material could be slippery for some.
Yogikuti Cork Yoga Block
Final Verdict: If you want a good quality cork yoga block in India then this is one of the best choices you can make. Although it does not come as a pair but the build quality is awesome and it is available in large size as well.
This is one of the low cost and best cork yoga blocks India. There are some yoga blocks on amazon which costs more than 3500 INR. This is a great budget cork yoga block but this does not come as a pair.
If you want to buy a pair or cork yoga blocks then here are your choices –
Now let's go back to the Yogikuti cork yoga block, this is made from all natural items and is free from any toxic material.
As it is made from cork, it is very light yet durable and does not sink in when you put your weight on it.
Even though it is durable it is skin friendly and not too hard that is beyond the pain threshold.
This is great for making your postures difficult or easy!
Pros:
Budget friendly cork yoga block

Eco-friendly

Biodegradable

Non toxic

Large in size

Raw material is probably from USA
Cons:
AmazonBasics Yoga Blocks, Set of 2
Final Verdict: I would like to choose this yoga block over others as I am a casual yoga practitioner. It is easy to hold, foam quality feels right and have a anti slip surface.
If you are only doing causal yoga practice and do not need super dupar quality yoga blocks and can do without wood yoga blocks or cork yoga blocks then this is for you. This is a pair of yoga blocks (we all mostly need pair of yoga blocks anyway) made of foam.
This is durable, high density and will last for years.
The dimensions are as follows: 9 inch length, 6 inch width and 4 inch height.
The upper texture has slip resistance grooves and the edges are rounded to maximize usability.
There is no strap sold with this package.
Pros:
Low cost.

Foam made.

Have anti slip surface.

Size is great.
Cons:
Some may find the width is too much.
COROID Yoga Block India
Final Verdict: Coroid yoga blocks are well applauded worldwide and you can buy them to improve your yoga and physiotherapy sessions.
Coroid yoga blocks are made from high density foam to deepen your stretches or help you with maintaining your posture.
And Coroid Yoga blocks are sold worldwide and you can buy the same product even if you are outside of our country, India.
These foam yoga blocks are 9 inch long with 6 inch width and 3 inch height.
The foam used is reliable and durable and can last for a long time.
This is slip resistance and odorless and you can clean it using just water or soap. It is recommended to clean this foam yoga block after each use.
This is my recommendation as the best yoga blocks in India and this can be used for practising yoga, physiotherapy, wrist support, knee support, pilates and more.
By this for:
Good quality foam.

Slip resistant

Lightweight

Portable

Moisture proof
Cons:
Serveuttam Yoga Block India
Final Verdict: This is a budget yoga block and strap set which is made in India. The foam and strap quality is not as good as the premium yoga block sets but is a good budget option.
This is a yoga block that is not made in China, it is a Made in India and is a good combo kit for yoga/physiotherapy.
This combo comes with a strap and two foam yoga blocks.
Buy this for:
Made in India

Non toxic, eco-friendly

Lightweight

High-density

Moisture proof
Cons:
Not good finish like premium models.
Friends of Meditation® 1/4 Round Wooden Iyengar Yoga Block
Final Verdict: If you want a tool that is specifically related to Iyenger yoga block and is made wooden that looks very good, then go for this one!
This is a premium yoga block termed as Iyengar yoga block. This yoga block is made of wood and is not in rectangle shape.
This is good for assistance in doing tough postures and improving flexibility.
The wooden yoga block is very durable, it has one side as curved and the other side is rectangle. Although it is wood and very durable it has a soft surface so it doesn't hurt.
This blocks is especially good for standing postures and not great for fixing body postures while lying down.
The length of this Iyengar yoga block is 10 inch, height 3.5 inch and the curved area height is around 3.2 inch and top is around 5.5 inch.
Buy this for:
The great wood structure.

Durability

Eco friendly material
Cons:
The length can be a little problematic for some.

It has some weight.
How to
choose

yoga blocks

Price: I would not want to spend more than 500 INR for a yoga brick. I will use it for almost thrice a week and in that budget I can get one of the best yoga blocks in India. So I am okay with this.

But good wood material and sometimes cork material would cost more. And some foam yoga bricks made by good branded companies will cost more also.

Material: Foam comes first when it comes to yoga brick material. It is also very popular and low cost. But despite the price the foam yoga blocks available in India are of good quality and will last for years.

Next is wood, wood is heavier than foam blocks and looks very nice to me. Good quality wood blocks are costly but they will also last for a long time. But for posture correction related workouts I would use foam due to subtle softness.

Here comes the Cork made yoga blocks, these are the most expensive yoga bricks in the Indian market. These are harder than foam yoga blocks yet not so hard like wood yoga blocks. It is also recyclable and would last for years to come.

Size: Most usual size is 9*5*4 and some are larger also. I believe size similar to this works for all.

Weight: Wood yoga blocks are heavier than foam and cork. Foam is the lightest of them all.

Shape: most yoga blocks are rectangle but some rare ones are egg shaped which are most used to correct spinal posture.

Easy to clean: Foam is the most easy to clean and cork is somewhat difficult to clean. Wood is also easy to clean.
How to use
yoga blocks and straps

?

First let check the Yoga block, yoga blocks have a rounded corner so you do not hurt yourself.

Here are the top ways to use a yoga block –

Chest opener: Where you would put one under your back, right in the middle of your 2 shoulder blades. Check youtube for better understanding. Asanas like Matsana require you to do similar and this will help. And using yoga blocks for chest openers is also good for correct posture.

Another Yoga pose like Anahatasana where you are required to stretch your middle back and chest yoga blocks can be used to add some more difficulty. If you do not have yoga blocks yet in that case you can use a stable base to put your elbows on. You can even do this while you are standing.

Paused Bicycle Crunches: It is not a yoga pose but you can use yoga blocks. The yoga blocks will be used when your knees are touching your elbows. You will be stopping and adding that yoga blocks in between to get some extra stretch on inner thighs. I would not do this though, sounds and in reality is a lot of work and destroys the flow of the workout.

Surya Namaskar modified with legs together: Keep the yoga block in between your thigh and hold it in the same place. It will activate some extra muscles.

Downward facing dog: Place the yoga blocks at the end of your yoga mat, it will not slip by that way. Place your palm on those yoga blocks now and do your workout.

Upward facing dog: This is similar to another yoga pose but well, here your palm is still on the yoga blocks but your face is upwards. Yoga blocks in these yoga positions help those who have some mobility issues. As it decreases the height between the ground and the person's arm.

Bird Dog: I find it bird dog tough and one reason is due to a shoulder injury. And balancing on the yoga blocks with your palm on one and knee one is tough. But it is rewarding.

Tree pose and warrior pose: Whenever your arms are overhead and they need to be in namaskaram pose – hold it right there. I mean hold the yoga block instead of a namaskar, this will improve your arm strength and balance.

Hip flexor release: Put the yoga block under your butt and then try a knee to chest stretch, it will help with hip flexor stretching.

Neck Stretch: lie on your back and put the yoga block under your neck. I have done this with foam rollers also. You can choose the height by flipping the yoga block, a great tool for this stretch.

Lunge stretch: This is already a great stretch and now you will put your front leg on a yoga block. This will increase the height from the ground and will intensify the stretch.

Bridge: Bridge is a wrestling move and here you will do it with the yoga blocks. You are required to hold the yoga blocks in between your inner thigh and do the bridge. This will engage your inner thigh muscles more and may help with creating a mind muscle connection.

Spinal Twist: Here you are lying on a side with your knees bent and have the blocks in between your legs. Now you would twist your spin and turn the other way of your knee. Your both arms should be stretched and this will give you a great spinal stretch.
Now how to use the straps?
Yoga straps help to get more deeper stretches and combined with yoga blocks all things go pretty tough pretty quick.
Side stretch: Either standing or sitting, just hold the strap tigh in a stretched position in your fist and holdi it up. Your chest should come out, abs tight and now you bend sideways to stretch. The yoga strap helps to keep a tight posture during this workout.
Hamstring stretch: This works great if the yoga strap is somewhat stretchable. Lie down on the yoga mat, put that yoga strap on your feet and put your feet up. Now pull that strap towards you and you will feel the stretch.
Boat position: SImilar to the above now your back will be off the ground and your core will be engaged more.
Vajrasana: Here you can use the straps to wrap your knees so that they stay close.
Warrior pose: get in the pose with the straps in your fist and pull that. This will help with alignment of your arms and back.
Gomukhasan: If your arms do not reach each other, use Yoga straps to hold and provide support to yourself.
Tree pose: Use the straps on the leg that is bent to pull it up, it will help to keep the balance.
Ek pada rajakapotasana: The pigeon is also a posture where you can use the yoga strap to support yourself. If your feet do not reach upto your head then you can use the strap to wrap your leg and gently pull towards the head. Over time this will increase flexibility.
Warrior III or Viravadrasana: Here since your are bending forward with your arms at your side, you can use yoga strap to wrap your feet and gently keep it stretched with your hands. This help with support and maintaining the pose.
Posture: Correction wrap: You can use the yoga strap to bind your shoulder blades and back so that they do not bend. Take help of youtube videos for this.
Shoulder opener: This works better with resistance bands but you can still use a yoga strap. Pull the yoga strap by grabbing them into your hand and your hand should be in front of you or above or back.
Natarajasana: This is a tough posture to do and with yoga straps wrapped around your top feet and you keeping and gently pulling it towards your head helps you with balance.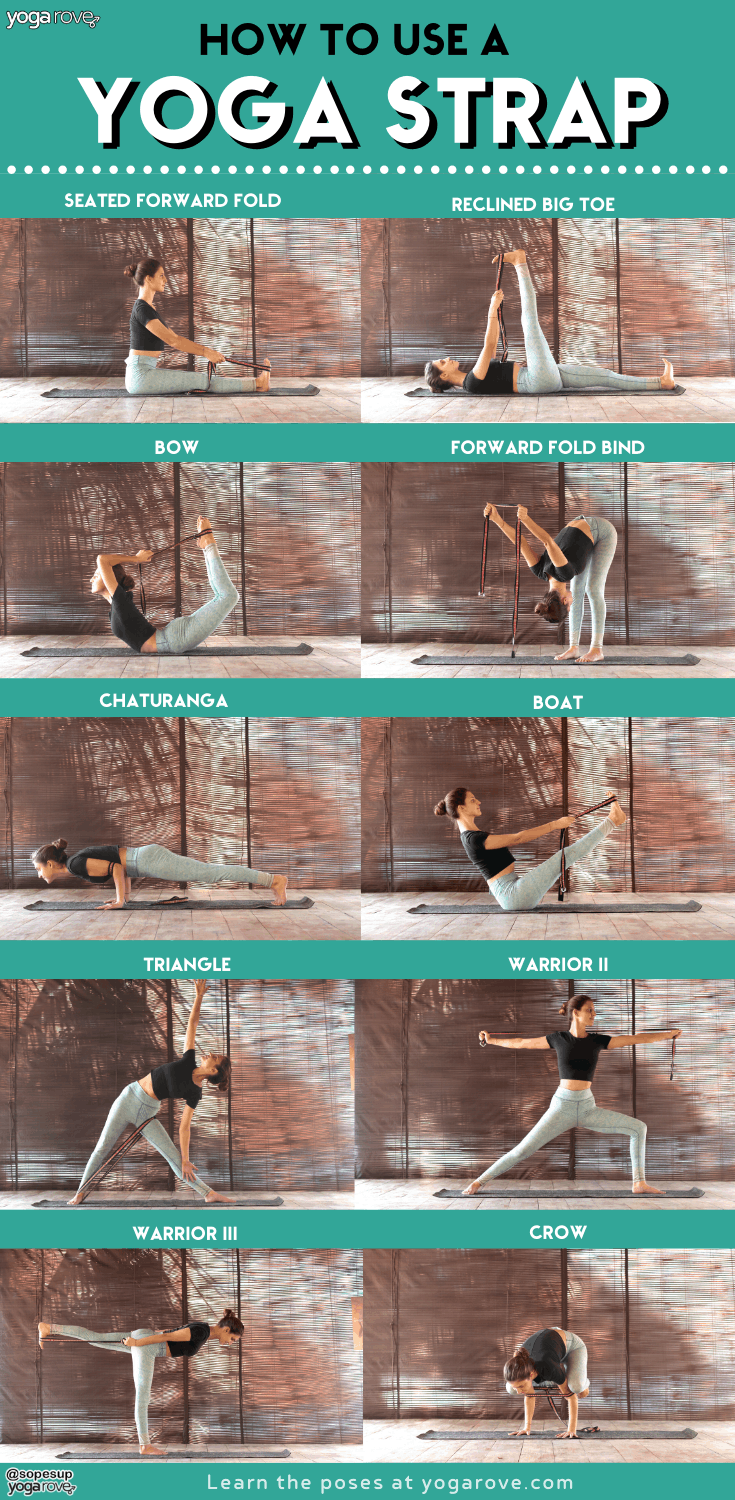 FAQ
How much do yoga blocks cost?
In India yoga blocks cost around 300 – 1000 INR. Mostly are made with foam type materials. But you will also find wooden yoga blocks or cork yoga blocks in this price range.
What yoga block to buy?
For general purpose you can buy any high density foam yoga blocks. If you want something natural or eco friendly then get wooden or cork based yoga blocks. You can also color match the yoga block with your yoga mat.
How many yoga blocks do you need?
At most you would need two identical yoga blocks and if required a yoga strap. I would not get a single piece and even doing a bird dog would require two yoga bricks to balance on. And usually you will get a discount if you buy a pair instead of one. Sometimes even more discount if you buy a yoga brick pair with a yoga strap in India.
What size yoga blocks do I need?
In India the usual yoga block size is 9*4*3, meaning 9 inch length, 4 inch width and 3 inch height.
How do yoga blocks help?
Yoga blocks help you with 3 things: 1) Provide stability to tough balancing postures 2) Can provide support on tough postures so that you can get better (eg: Hands not reaching while doing Gomukhasana) 3) yoga blocks can also help you with shoulder, hip stretching.
How to use yoga blocks for back pain?
I would recommend using a soft yoga block for this as you will be on the floor lying on it. You can also do knee to chest stretch while lying on a yoga block. This helps with stretching the back and may ease the pain.
How to use yoga blocks for downward dogs?
You can place them in front of them and put your hand on it. This does not increase the difficulty but helps those who have mobility issues.
How to use yoga blocks for neck pain?
Simply lie on your back and put the yoga block under your neck. Mind the height of the yoga block, do not set the highest side always.
How to use yoga blocks to increase flexibility?
You can use yoga blocks to increase flexibility while using it in yoga poses and in stretching moves. With halasana or pigeon pose, bird dog pose and in many more poses you can use the yoga blocks to increase flexibility.
In asanas like gomukhasana, king pigeon pose you can use yoga straps.
How to clean yoga blocks?
For foam yoga blocks you can just use mild soap, detergent and water. After each use you may wipe it clean so it will be less likely to be dirty quickly. For wooden and cork yoga blocks you may also use detergent and water. And after wiping it you may let it air dry.
How to disinfect cork yoga blocks?
You can use any alcohol based disinfectant which comes in spray bottles.
How to carry yoga blocks?
You do not need any special yoga bags to carry a yoga block. You only need a bag that can fit them.
What is the best material for yoga blocks?
Foam made yoga blocks are all purpose and great to use. Otherwise cork yoga blocks are eco friendly and the feel is also good.
Quick Jumps: