Here are the best running shoes under 3000 in India that you should get for your daily runs. Choosing the right footwear for running is crucial, as it significantly impacts your performance. To make your selection easier, I've handpicked top-rated running shoes under 3000 rupees. Our list includes renowned brands like Adidas, Nike, Puma, ASICS, Reebok, Skechers, and Campus.
And if you're an avid runner like me, you know the importance of having the right pair of running shoes. The right shoes can make your daily runs a breeze, while the wrong ones can lead to discomfort and even injuries.
Under affordable prices, I would suggest you get lace-up shoes with mesh uppers for a pleasant running experience.
Running is a sport all over the world, but the type of running and footwear you use can have a huge impact on your performance.
Some runners prefer to run barefoot, while others prefer to have a good pair of running shoes.
If you are looking for the best running shoes for men under 3000 rupees in India, this article will help you to find out those shoes under 3k easily!
[List] Best running shoes under 3000
How did we pick the shoes?
We reviewed all the reviews and considered the features like outer sole, mesh upper quality, comfort level, and my personal experience with the 3 running shoes I own.
Based on the above we are able to pick the running shoes for you.
Also, you will notice all of the shoes are under 3k but slightly above 2k. If you want to check shoes below 2k then please check here.
[REVIEW] Best running shoes under 3000
Adidas Men's Beamers M Running Shoe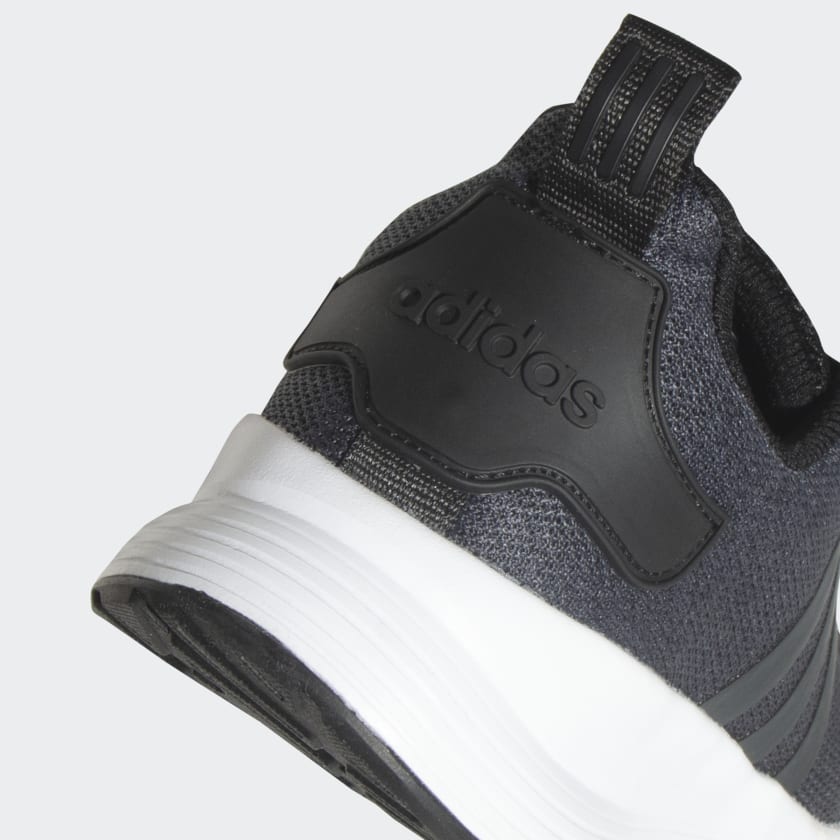 Why Should You Buy this?
This is a great running shoe that is ideal for road running or jogging with a mesh fabric top. The lace-up closure is also good and overall this is one of the most comfortable shoes.
This is a great shoe for the casual runner who is looking for comfort and lightweight shoe.
This footwear is lightweight but provides you with comfort as it's a running shoe.
It is lightweight and has a mesh upper with a full-length EVA sock liner for comfort.
The midsole and outsole are flexible for better response and responsiveness.
Pros
Very lightweight pair of shoes at this affordable price. The shoes are lightweight and comfortable for both walking and running, making them perfect for training.

Comes with lace-up closure and a fabric-based mesh upper.

This gives this shoe a snug fit and comfort of the fabric while still being one of the stylish running shoes. Be sure to pick the right size for you though.

Comes with an EVA insole for shock absorption.

It has a soft foam midsole that keeps your feet comfortable.
Cons
Some buyers are not happy with the upper material.
Reebok Men's Flex O Fusion LP Blk/Wild Orange Running Shoes
Why Should You Buy this?
Having personally used a similar show at these affordable prices, I can say this is one of the good quality running shoes that you can get.
This shoe is also good for casual occasions due to its colour and design.
And you can also use this for long-distance runs.
Either way, this shoe works as a comfortable pair for many tasks.
This Reebok running are perfect for every runner, especially the ones who are looking for comfort while running.
The unique feature of the Reebok running shoes is that they are made up of a combination of rubber with memory foam and a memory foam layer, all to provide an ideal cushioning experience on the foot.
[Are running shoes good for everyday use?]
Pros
The heel counter is reinforced to provide more support.

This Men's Running Shoes has a lacing system on the mid-foot region so that the shoe fits well.

The EVA outsole provides excellent traction when you are running and provides extra cushioning as well. 

The synthetic mesh material has a good breathability options and has structures in place to make the top durable.

Has good heel support in this price range, if you ask me. The heel height is around 2 inches.
Nike Women's W Revolution 6 Nn Running Shoe
Best Running shoe for women under 3000 rupees
Why Should You Buy this?
The Nike Women's W Revolution 6 Nn Running Shoe is a great shoe for women runners and comes with some premium looks.
This Nike W revolution will take care of your feet and definitely are some notches up when it comes to other women's shoe!
This shoe is built for comfort and cushioning.
Buy the right size and it will be your perfect pair for running.
The New Nike running shoe is one of the most comfortable runners for women with extra length and cushioning for a plush ride.
The shoe is equipped with breathable mesh material for comfort and support.
A lightweight midsole provides a soft landing and plush cushioning while a full-length flex grove improves your form throughout your run.
A durable outsole is built for the way women run and a soft, flexible, and removable sock liner conforms to your feet and provides comfort all day long.
Pros
This Nike shoe has a nice, sleek design.

The lightweight cushioning is thick and should absorb all the impacts. The shoes are perfect for running and gym training, with a lightweight design that makes them feel like you're not even wearing shoes at all.

The upper material is all mesh, and it will not let your beautiful feet sweat.

The lace-up closure provides this pair of running shoes with a good fit.

The shoes have a great fit and are very comfortable, making them perfect for everyday use or hitting the gym.
Cons
Many feel the insole is rather narrow.

Many feel they did not get the right size.
Reebok Men's Fair Weather Shoes
Why Should You Buy this?
This is a good running shoe with a good comfort level and strong material and the combination of synthetic and mesh materials is also protective.
This is not optimal if your feet sweat a lot.
However, as a casual shoe cum a running shoe under 3k INR this is a good running shoe to have.
Reebok Men's fair weather shoes are not actually for all weather since they do not appear to be waterproof. But the shoe design is such that it makes it a feature-packed running shoe.
Pros
Lightweight cushioning does not weighs you down but provides good support and keeps feet dry.

The mesh upper layer makes the shoe breathable, but it could be better.

You can use this as a casual shoe as well. But do not wear it on a rainy day.

It has good heel support, thus it makes a shoe that protects your feet/heel when you run.
Cons
Might not be good for rain and also not for those who have sweaty feet due to the upper material.
Nike Mens Revolution 5 PRM Running Shoe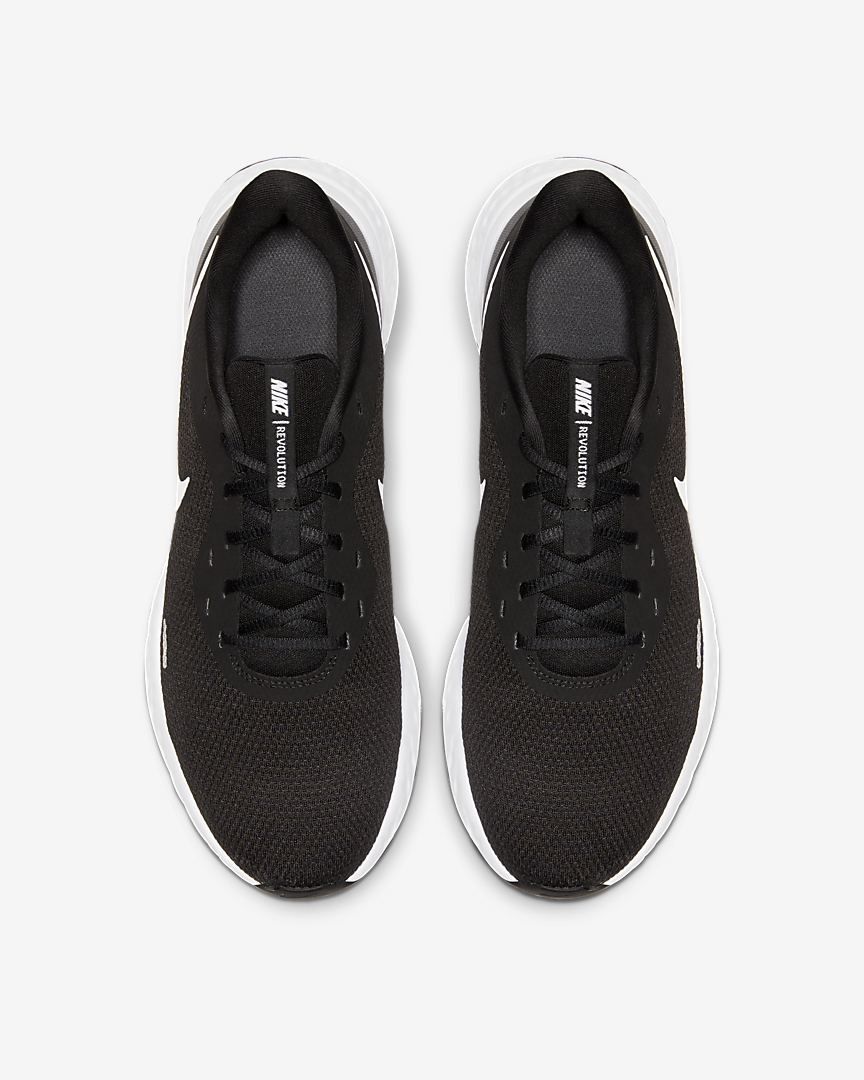 Why Should You Buy this?
These shoes provide lightweight and comfortable cushioning to your feet to keep them protected from impact during your run.
The injection-molded EVA foam shoe gives support to the floor and provides reaction and durability!
This is an affordable, versatile shoe that rightfully fits this list of budget-friendly running shoes.
You will feel the difference in your feet, and you will feel safe and comfortable while playing the sport.
When it comes to running shoes, the Nike Men's Revolution PRM running shoe offers great stability, comfort, and protection with enhanced lateral support.
These shoes also help provide a great fit as their last is specifically built for each runner.
The upper and collar are built for all-around comfort, and the midsole delivers the right amount of cushioning and support for this all-season shoe.
Pros
Durable and high-quality material for the shoe.

The EVA shoe is thick, thus it will provide you with good support and protect you from the impact.

The EVA shoe sole has good grooves, so this athletic shoe will provide superb traction.

The Lace closure type is good for running shoes, so the shoe stays where it should be.

The mesh is a high-quality material, and it makes the shoe breathable.

The inner sole is very soft and is made with foam, so it is very comfortable for the long run.
Can running shoes be used for gym
Puma Erupter Men's Running Shoes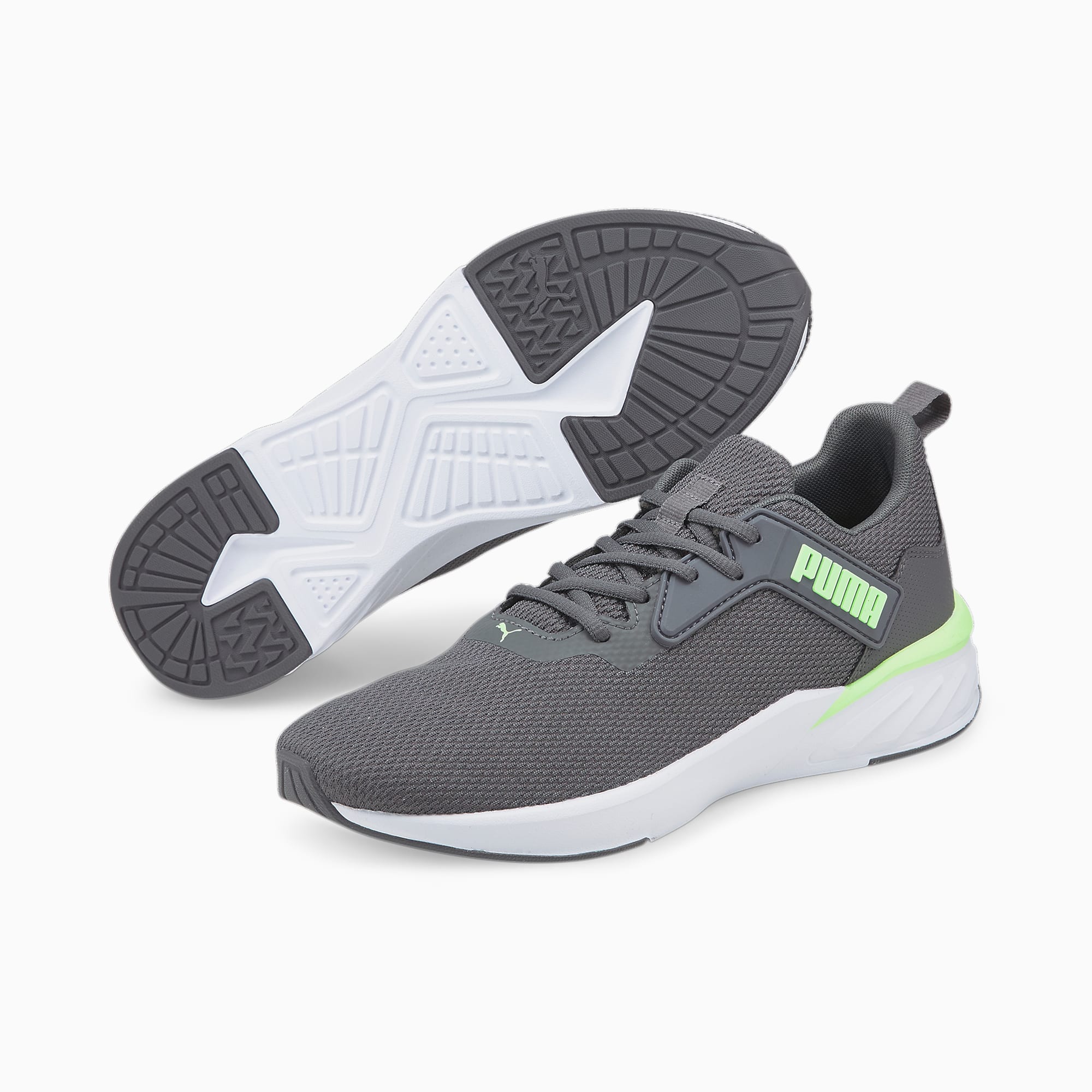 Why Should You Buy this?
This is a nice looking men's running shoes that will make your running experience comfortable and enjoyable.
This PUMA Erupter running shoe is a versatile shoe made with high-quality material.

This is a value-for-money shoe with EVA midsole, mesh, and synthetic upper.

You can also use these as a training shoe and this makes this shoe one our top picks.
This Men's Puma Running Shoes are really comfortable and nice looking. Puma also claims the shoes to be comfortable for the wearer.
I think they are right and so, I'm sure you will too. This is the men's version by the same company.
Pros
Has breathable material which is also a strong material for running shoe.

This mesh upper will keep your feet dry if you have sweaty feet.

This pair of running shoes have a thick EVA sole which absorbs impact.

This EVA sole also protects your heel and all the feet from the running impact.

The heel stick outs a bit which supports your heel if you are a heel runner.

This is a slip-on closure that is easy to wear.
Can Running Shoes Be Used for Trekking
Cons
Many complain that the shoe feels hard and a little wider at the front.
ASICS Men's Road Jog Running Shoe
Why Should You Buy this?
If you are a casual runner or a serious runner, then these ASICS Men's Road Jog are the best running shoes for you.
The shoes are extremely comfortable to wear and give you a great grip while running.
If you are looking for an all-around running shoe, then these are the best.
The shoes may also have a design issue as the front look from the top could have been better designed.
It looks very buys to me, but the upper of the shoe is made of mesh material so it will let some air in.
In terms of longevity, the shoes may tear apart in 5 months.
The sole of the shoes can also be a bit hard but it is good build quality and lightweight, making it great for long runs.
Finally, it is important to check the size chart before buying as the size mentioned on the shoes may differ from the size chart.
These jogging shoes are designed to give you better endurance while protecting your feet.
These shoes are ideal for casual runners like students and housewives, but for more serious runners, these shoes also perform well.
The shoes are designed with better support, the durability of the materials, and a great grip. It will even last longer than some running shoes too!
Pros
The ASICS men's has a closure type of lace-up. This allows you to adjust the fit of the shoe.

This sports shoe has a synthetic upper material and a mesh layer to do cross ventilation.

This shoe has good reinforcing material or frame to support the top mesh.

There is a decent toe box and protector as well.

The EVA foam has good thickness, and it will protect your heel as well.

This ASICS shoe is lightweight, so you will not feel any strain as well.

Good for running outdoors.
Cons
There are no negative sides for this shoe at this budget.
Skechers Men's Go Fast Running Shoes
Why Should You Buy this?
Anyone looking for lightweight, comfortable shoes for running or working out, and for standing for long hours, may consider these Skechers Go Fast Running Shoes.
The shoes seem to offer good value for money, have good cushioning and breathability, and are durable.
However, some reviewers have experienced issues with sizing and quality, so it may be worth trying them on before purchasing or checking the return policy.
They are very comfortable and very supportive of your feet.
They are a must-buy for any runner.
Skechers Go-Fast has a great look and a sleek, streamlined design to make you fast on your feet.
These shoes are very comfortable and have great support to keep your feet in place.
Great for runners or just for some light cardio training.
Skechers shoe really stands out with their exceptional comfort and durable outsole.
Pros
It is a slip-on design however this still manages to get a snug fit.

This Skechers shoe has a medium-width midsole so it fits all types of feet easily.

There is a good durable EVA sole in place which keeps the feet pain-free and provides good traction.

The innersole cushion is very soft and you will feel very comfortable in this.

The shoe upper material seems to be made of high-quality material and is breathable.
Skechers memory foam shoes for walk?
Cons
Few suspect that the quality has degraded and the shoe's outer sole got damaged in 6 months.
The will to win means nothing without the will to prepare.

Juma Inkangaa, 1989 winner of the New York Marathon
Adidas Men's Glick M Running Shoes
Why Should You Buy this?
If you are looking for a comfortable running shoe, then this Adidas Men's Glick M is the one for you.
It is a comfortable shoe and is lightweight and comes from a famous running shoe brand.
If you are looking for a good shoe, then this is it!
These versatile shoes are perfect for casual wear, walking, and even mild sports like running.
With their high-quality construction and lightweight design, you can wear them all day without any discomfort.
However, it's important to note that sizing can be a bit tricky with Adidas shoes.
To ensure the perfect fit, you may need to order one size bigger or smaller than usual. And as with any online purchase, it's crucial to be on the lookout for counterfeit or defective items.
Be sure to inspect your new shoes carefully upon delivery to avoid any disappointment.
All in all, Adidas shoes are an excellent choice for anyone looking for a reliable and fashionable pair of shoes for everyday wear or light exercise.
So why wait? Treat your feet to a comfortable and stylish pair of Adidas shoes today!
Adidas Men's Glick M Running Shoes are comfortable and lightweight running shoe that combines both softness and responsiveness.
A mesh-type shoe for ventilation and optimal fit. Ideal for both indoor and outdoor use.
Best Running Shoes In India Under 2000
Pros
The upper textile material is made of mesh and this lets the air in and out keeping your feet sweat-free.

This shoe comes in a very attractive design and has lace-up closure.

The shoes are lightweight but they look large.

The sole is made from EVA foam which is thick and durable.

The outsole has many grooves to make the shoe stick to the ground with optimum traction.

You can use these as casual wear shoes as well.

The toe box is wide enough and has a cover to protect your delicate toes.
Cons
As per the description, the size of running shoes goes one size smaller so be careful while buying this one. Thus some customers find the shoe too tight.


Beware of the fake items.

Many would argue that the top mesh is weak.
Campus Men's Ree-FLECT (N) Running Shoes
Why Should You Buy this?
If you are after a shoe that is made by Indian brands then you can surely go for it.
This shoe has those exciting reflectors on top material as well which you might find great.
I recommend buying these shoes for running or casual wear.
They have the good build quality, durability, and a comfortable design.
The reflective material makes them suitable for low-light conditions, and they look attractive.
However, they may not be suitable for people with wide feet or for extended wear as they can cause pain.
The comfort and quality justify the cost.
Overall, if you're looking for running or casual shoes that are comfortable and well-built, these shoes are a good choice.
Campus Men's Ree-Flect is a very creative-looking running shoe made with high-quality materials.
This pair of running shoes have a beautiful EVA sole and fabric-based upper material.
Indian brands and unique designs are what make Campus shoes stand out under the 3k INR shoes.
Pros
People like the comfort that these shoes come with.

The inner sole is very soft and thus is very gentle to the feet.

Comes with reflectors on the upper materials. They brighten up at night.

Thermoplastic Elastomers shoe sole is thick to absorb the impact and holds superb traction on roads.

Many people comment that this shoe is way better than known brands that make sports shoes.
Best running shoes in India under 1000
Cons
Many do not find this shoe special and do not feel the comfort.

Many do not like the textile material on top.
The Last Rep!
Lastly, I would like to say, you do not need the best shoe. You need a shoe that has enough traction and durability. You need a shoe that is breathable and comfortable. All the shoes in this list are supposed to last for a while with daily runs.
Thus if you want to use them in your gym training, they should last longer.
Tell us what shoe under 3k did you buy? What is your take on the shoe after using some time!
Until then..keep moving forward!